Falklands discards air links with Argentina and iterates London pledge to support hydrocarbons development
Thursday, August 11th 2016 - 17:53 UTC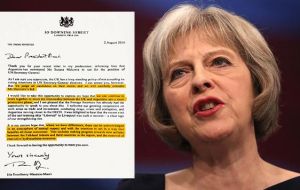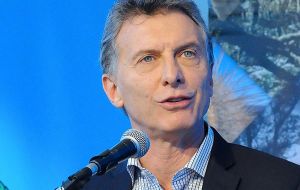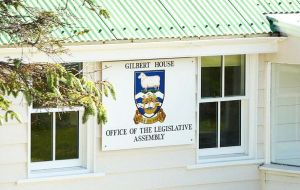 The Falkland Islands government has made a public statement pointing out that the UK Government has been open and transparent with FIG about how it would like to improve the bilateral relationship with Argentina but "has made it clear that this will not include negotiations on the sovereignty of the Falkland Islands."
The statement from FIG released on Thursday is in response to news from Argentina reporting contents of a letter sent from the Prime Minister Theresa May to the Argentine President Macri, regarding air links to Argentina and hydrocarbons in the Falklands.
FIG admits it is no secret that the Falklands are looking to establish an additional air link within South America, but "this does not include the possibility of a link to Argentina".
Likewise the release underlines that FIG is confident that the UK remains committed to supporting the Islands' right to self determination and to develop their economy, including hydrocarbons.
And the new Minister for the Falklands, Sir Alan Duncan, "confirmed this in a telephone conversation with the Chair of the Falklands Legislative Assembly last week".
Follows the full statement:
Response to news reports regarding flights to the Falklands

Members of the public may be aware that an article was published yesterday in an Argentine newspaper, which reports and shows a letter sent from the Prime Minister Theresa May to the Argentine President Macri, regarding air links to Argentina and hydrocarbons.

In response to the article published, the Falkland Islands Government have released the following statement:

"The Falkland Islands Government notes reporting in several Latin American media outlets regarding flights to the Falkland Islands. The Falkland Islands Government is confident that the UK remains committed to supporting the Islands' right to self-determination and to develop our own economy, including hydrocarbons. The new Minister for the Falklands, Sir Alan Duncan, confirmed this in a telephone conversation with Chair of the Legislative Assembly last week. It is no secret that the Falkland Islands are looking to establish an additional air link within South America; this does not include the possibility of a link to Argentina. The UK Government has been open and transparent with FIG about how it would like to improve the bilateral relationship with Argentina but has made it clear that this will not include negotiations on the sovereignty of the Falkland Islands."