Falklands' fresh produce high prices blamed on Montevideo's port charges and fees
Saturday, August 13th 2016 - 09:26 UTC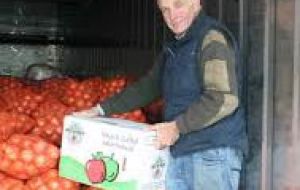 Uruguayan port charges and fees from port operators and shipping agents are the cause of fresh produce being so expensive in the Falkland Islands, Stanley Nurseries Tim Miller told Penguin News this week. Montevideo port costs add 75-100%, "on top of actual SAAS (shipper) freight costs. In UK similar operations add a mere 20% to the SAAS freight cost said Mr. Miller.
"We just have to add it into your prices," explained Mr. Miller who said he had just received 8 cubic meters of fresh produce from Montevideo and the port charges and fees from the port operators and shipping agents on that alone had been £1,230.
"Or £0.68 per kilo just to have it put in the container and the container taken to the ship." All of that is, "separate to the purchase costs, health inspections, export taxes and sea freight."
Miller said £135 is charged to have the container plugged into the power, "and pulled out again 12-18 hours later. In this container may be pallets for three different importers here and each one is charged the same, £135!"
Also each importer is charged for the container to be sealed, "two to three times but there is only one seal: there is no alternative other than to pay these extortionate port fees... or the cargo would not be processed."
In England he is only charged £1,400, "only £170 more for the loading and all agency fees to fill 65-70 cubic meters into a 40 foot container."
He emphasized that while suppliers in Montevideo were very honest and efficient they too were at the mercy of the overcharges in the port and Uruguayan government bureaucracy. Uruguay also imposes taxes on exports. (PN).