Peru Supreme Court overturns sentence against ex president Fujimori for alleged diversion of public funds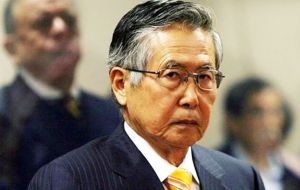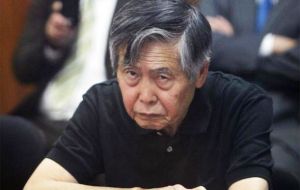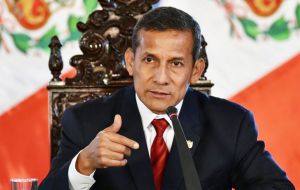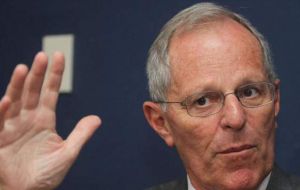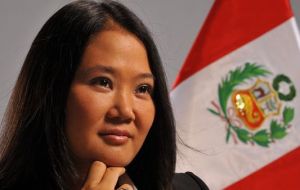 Peru's Judiciary overturned an eight-year sentence against former president Alberto Fujimori for alleged diversion of public funds to tabloids to facilitate his second re-election in 2000. The Supreme Court said in a ruling "there isn't enough material evidence" to declare any criminal responsibility of Fujimori, who is serving another 25-year sentence in prison for crimes against humanity.
"It is impossible to categorically affirm or deny the guilt and responsibility of the accused," the court said.
Fujimori's defense team challenged the sentence last year that found the former president guilty of embezzlement after he ordered an alleged 122-million-Soles (US$40-million) payment from the Armed Forces to several tabloid newspapers, known as in the country as "diarios chicha" ("daily brews" yellow press), to buy their editorial line and assist him against his rivals in his third presidential bid.
The Supreme Court also ordered the amendment of the jailed president's criminal record to reflect the decision and a re-compensation payment.
Fujimori has been imprisoned in a Lima jail since he was convicted for the "authorship" of a massacre of 25 people by undercover soldiers in a war between government forces and left-wing "Shining Path" guerrillas.
In 2013, former president Ollanta Humala refused to approve a humanitarian pardon for Fujimori requested by his family. Currently, the government of President Pedro Pablo Kuczynski is evaluating a second request to have the 78-year-old moved to house arrest on humanitarian grounds.
Kuczynski narrowly beat the jailed ex-president's daughter, Keiko Fujimori, to win the presidency in the June 5 election. She has carried on her father's legacy, heading his Popular Force (FP) party which has a large majority in Congress, overseen by her brother Kenji as head of the FP bloc.
Fujimorism divides the country as many elder Peruvians, especially in rural areas, see the jailed strongman as the man who largely eradicated the Shining Path rebel group that launched an internal conflict that has killed an estimated 70,000 people since 1980.
The continued popularity of Fujimorism, coupled with its strength in Congress, will prove a challenging obstacle to president Kuczynski as he seeks to pass his nascent administration's laws.