Falklands' war: Israel sold weapons to Argentina during the conflict, say declassified documents
Wednesday, August 24th 2016 - 21:07 UTC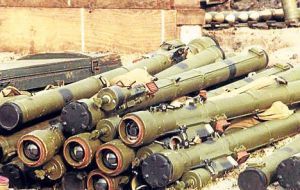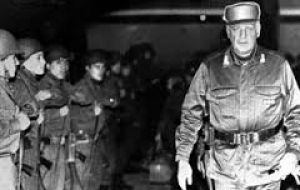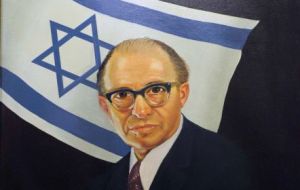 The British Foreign Office has recently declassified documents that allegedly prove that Israel sold weapons to Argentina during the 1982 Falklands War between the Argentine military dictatorship and the UK.
The British government's National Archives department released the files dated November 16, 1984, which include a memorandum from a senior British diplomat who provided details on the Israeli arms sales to Argentina, the London-based Telegraph reported on Wednesday.
"Israel was one of the few countries to supply Argentina with arms during the Falklands conflict and has continued to do so," wrote C.W. Long, the UK Foreign Office's then head of the Near East and North Africa region, in one of the documents.
The now disclosed files further substantiate claims made in a book published in 2011 that purported to expose Israel's armament of General Leopoldo Galtieri's Argentine junta forces by secretly routing weapons shipments to Buenos Aires via Peru. In his book "Operation Israel", Argentine journalist Hernan Dobry wrote of the Israeli weapons sales during the war and Jerusalem's denial at the time of such actions.
The newly-released files that list evidence cited by British diplomats also reportedly note that Israel provided military equipment, including bomber jets, to Argentina's junta prior to the war and continued with the exports for years thereafter.
The declassified records add that Israel was prepared to sell espionage aircraft to the junta, and that former British foreign secretary Geoffrey Howe had called for the exchange not to be implemented.
However, the logs show that Long believed that Israel would pay no heed to the British request.
"I do not believe the Israelis are to be moved on this issue," the Telegraph quoted him as writing. "This is not satisfactory, but Israeli interests in Argentina will outweigh any readiness they might otherwise feel to be helpful to us."
At the time, ties were strained between allies Britain and Israel over the First Lebanon War while charges emerged that then Israeli prime minister Menachem Begin had approved the weapons' supply to Argentina.
The Argentine military Junta that ruled at the time faced increased opposition following their defeat in the ten-week invasion and conflict over the sovereignty of the Falkland islands, and relinquished power the next year in 1983.
It must remembered that Begin, founder of the Likud and sixth prime minister of Israel and before that leader of the Zionist militant group Irgum. He had no love for the British mandate of Palestine, and in February 1944 proclaimed a revolt against the British. Irgun targeted the British in Palestine, and was responsible for the attack on British military and administrative headquarters at the King David Hotel which resulted in the destruction of the building's southern wing, and 91 people, mostly British, Arabs, and Jews, were killed.