Nin Novoa exposes Mercosur disarray: "It's her; I'm the only minister she talks to"
Friday, August 26th 2016 - 11:53 UTC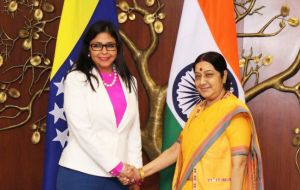 The fracture in Mercosur was candidly revealed by Uruguay's foreign minister Rodolfo Nin Novoa during an agro-business conference of cooperatives in Montevideo when he received a phone call from his Venezuelan peer Delcy Rodríguez.
Nin Novoa on Wednesday was addressing the conference when his cellular phone signaled a call. The minister looked at the screen, and smiled, "it's her, I'm the only (Mercosur) minister to whom she talks". With resignation he lifted and showed the cell phone but did not reply.
The call was from Delcy Rodriguez, the minister who on Wednesday organized a Mercosur meeting in the group's seat in Montevideo, which was attended by four Venezuelan, two Bolivian and two Uruguayan officials. Venezuela argues it is entitled to hold the Mercosur presidency, which Brazil, Paraguay and Argentina ignore for different reasons.
Thus representatives from the three did not turn up at the neatly planned rectangular table with the display of flags from all members.
At the conclusion of the Wednesday meeting the Venezuela representative Hector Constant made a statement, but did not take questions from the media. He was accompanied by the Bolivian ambassador Benjamin Blanco.
Constant standing with a Mercosur Presidency log poster behind him, said that the purpose of the meeting "convened by the Venezuelan Mercosur pro tempore presidency was to detail the guidelines during the rotating six-month mandate". Among those are increasing contacts with Cuba, China and Russia, continuing trade talks with the European Union and a "Musical Mercosur", following on a Venezuelan rich experience of infant and teenage orchestras.
The Wednesday meeting called by Venezuela was in response to a similar event on Tuesday but convened by Argentina, Brazil and Paraguay, where representatives confirmed that Venezuela had not complied with all its 2012 full member commitments and thus was not entitled to the Mercosur presidency. Furthermore they agreed to inform their foreign ministers of the reasons supporting this position and the proposal for a "collective administration" of Mercosur until 2017, when Argentina is scheduled to occupy the rotating pro tempore presidency.
Uruguay which triggered the situation when on 29 July devolved the Mercosur presidency at the end of its six-month mandate, supports Venezuela's presidency since it follows on the alphabetical order rotation and underlines the group should keep to the book.
The administration of president Tabare Vazquez insists that in the Venezuela controversy "legal and Mercosur charter aspects should prevail over political issues" contrary to what the three other founding members currently argue. But in reality the current Uruguayan government wants to take distance from 2012 events, when under ex president Jose Mujica, Uruguay justified the suspension of Paraguay since "on occasions political issues must prevail over legal issues".
Minister Delcy Rodriguez allegedly called her peer Nin Nova from New Delhi where she was scheduled to advance in trade negotiations between India and the now apparently bicephalous group.