Eight Paraguayan soldiers executed by rural guerrillas following an attack on a patrol
Sunday, August 28th 2016 - 03:59 UTC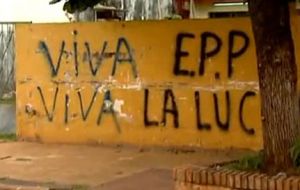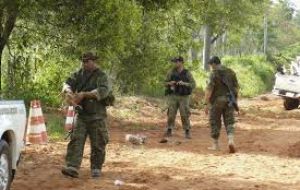 Eight Paraguayan soldiers died on Saturday in a rural roadside explosion, followed by execution of survivors, 500 kilometers north of the capital Asunción, the government said, blaming it on a criminal group which identifies itself as the EPP, acronym for Paraguayan People's Army.
Interior Minister Francisco de Vargas said the criminals placed explosives in the road where a patrol routinely passes. "Because of the manner in which it was done, we believe it was an attack by the known criminal group EPP" he said.
At first it was believed the soldiers were killed by the explosives but forensic exams said the stunned soldiers patrolling in a truck were executed with a bullet to the head.
"At about 9am this morning a routine patrol was the object of an attack on a country road in the Arroyito district ... the attackers detonated explosives as the truck passed and then carried out a cowardly armed attack on the wounded soldiers," said the Interior Ministry in a statement.
The government said it is investigating the attack, which took place in a cattle raising part of Concepcion, north of capital Asuncion, in an area where the EPP is known to operate.
Military sources said the soldiers were killed with 7.26, 5.56 and 9mm bullets and estimate there were eight to nine attackers involved given the number of footsteps. They fled on foot to the woods.
Since the group first appeared in 2008, it has killed some 60 people in attacks, the majority of them police, soldiers and cattle farmers, according to police. They are armed mostly with weapons stole from security forces and funded with ransom kidnapping.
Originally Paraguayan intelligence discovered some links with Colombia's FARC guerrillas and Venezuelan logistics support. Those believed to be the leaders of the group, according to intelligence sources were educated at Catholic schools.
The EPP in 2013 it carried out an attack in which five people died, its bloodiest to date. The group is believed to hold three people captive at present: a police agent who has been held for over two years, and two Mennonites, members of a religious sect of European background who have significant dairy farming communities in Paraguay.