Morales claims killing of minister and three miners was a coup attempt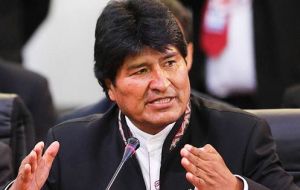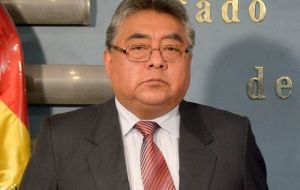 Morales claimed that the violent miners protests this week that resulted in the beating and killing of Deputy Interior Minister Rodolfo Illanes and the deaths of three demonstrators were the latest unsuccessful attempt by his political enemies to forcibly remove him from office.
"Once again, the national government has quashed an attempted coup. I'm convinced of that," the populist head of state told reporters in the central city of Cochabamba. He added that the miners had planned to entrench themselves at the roadblocks and that documents confiscated from the offices of the cooperative miners mention "overthrowing the government."
Morales reiterated his claim that the miners' protests were politically motivated and were not, as the leaders of the National Federation of Mining Cooperatives, or Fencomin, allege, launched to express their rejection of a new mining law that promotes the creation of labor unions within those organizations.
On Friday, Morales hailed Illanes as a "hero of the defense of (Bolivia's) natural resources" after reiterating that the real aim of the cooperative miners' protest was to pressure the government to allow them to sign contracts with private and multinational companies. It's not the first time Morales has blasted protests by different social sectors, including those by one-time allies, as coup-mongering conspiracies.
The cooperative miners behind this week's labor conflict also were former allies of the Bolivian leader. The violent protests claimed the life of Illanes, who was kidnapped when he arrived at one of the roadblocks to hold talks with the miners. The autopsy showed the official died of multiple beatings in the chest, head, genitals, during six to seven hours.
Three miners were also killed during the demonstrations apparently from bullet shots although the government insists that security forces did not carry lethal weapons. Three miners, suspects of the killing have been arrested and taken to a criminal court.