Brazil's political system confirms President Temer, removes 'outsider' Rousseff
Wednesday, August 31st 2016 - 20:29 UTC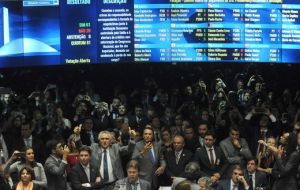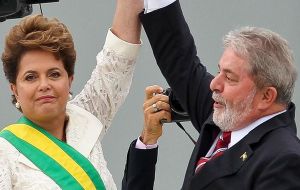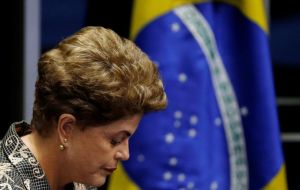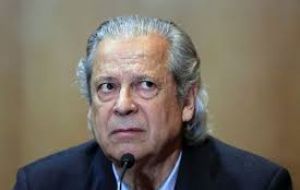 The Brazilian Senate on Wednesday midday impeached suspended president Dilma Rousseff, and removed her from office for the rest of her term, ending a power struggle that has consumed the nation for months but has not solved any of its mounting problems, rather the contrary. Vice-president and interim president Michel Temer will formally replace the first woman president of the country.
The Senate voted 61 to 20 the "foretold death" conviction of Rousseff on charges of manipulating the federal budget in an effort to conceal the nation's mounting economic problems. But the final removal of Rousseff, who was suspended in May to face trial, was much more than a judgment of guilt, was a verdict on her leadership and the slipping fortunes of Latin America's largest country.
The impeachment puts a definitive end to thirteen years of a governing by the populist Workers Party, PT, an era during which Brazil's economy boomed, lifting millions into the middle class and raising the country's profile on the global stage, but foundations proved to have been built on loose gravel.
In effect jumbo corruption scandals, particularly involving the ruling coalition with senior member PT, founded by Lula da Silva; the worst economic crisis in decades and the government's weak deaf responses to the souring national mood opened Ms. Rousseff to withering scorn, leaving her with little support to fend off a power grab by political rivals and resurfacing dormant jealousies in her own party.
Even when Rousseff and her supporters describe the ouster as a coup, for critics the impeachment was the fitting fall for an arrogant leader at the head of a party that lost its way, preferring political alliances with "vipers" to remain in power, and accepting ingrained systemic practices contrary to the original principles when PT emerged as a gust of fresh air and hope over two decades ago.
Moreover the impeachment does not restore public confidence in Brazil's leaders, or diminish the corruption that pervades in the country's politics. To the contrary, many Brazilians note, it transfers power from one scandal plagued party to another.
In the midst of the months-long controversy, one of Brazil's leading pollsters, but supportive of impeachment and with the purpose of downgrading Rousseff's image, had to hide an opinion poll revealing that Brazilians were in effect fed up with Rousseff, but also with Temer and Lula da Silva and overwhelmingly favored fresh elections.
Everybody is convinced that Rousseff did not pocket a single Real, --she comes from a very rich family in Minas Gerais, where her father was one of Belo Horizonte's leading notaries--, and was above all she is a technocrat (economist by training), with little patience for discussions, debate and dialogue. Her political mentor Lula da Silva picked Dilma to overcome ambitions inside his PT party, and which could in the future not need his shield.
Furthermore Rousseff's first presidential election (2010) and re-election (2014) were masterminded by Lula da Silva, responsible for all the political network, and as he would say in the campaign, "Dilma is Lula with a skirt". And equally significant she was PT's candidate and not responsible for the extended Brazilian politics practice of illicit campaign financing
But Rousseff, the technocrat, was energy minister, chair of Petrobras board, chief of staff next to Lula da Silva, and could not be ignorant of all the corruption, graft and patronizing practices of her boss and immediate advisors, several of which ended in jail together with top PT officials.
And the "plague" did not detonate with Petrobras: already back in 2005, there was the "mensolao" scandal, paying a monthly stipend to members of congress to approve legislation, with funds skimmed from government. Then cabinet chief, Dirceu, sentenced to twenty years imprisonment, had his office next to that of president Lula da Silva.
But in a more personal description, the technocrat, no nonsense Rousseff did not cultivate good relations with members of Congress, sometimes not even with her own party or coalitions allies. Her impatience contrasted with the charisma and ever friendly attitude of her boss, Lula da Silva. Her autocratic persona and short temper became legendary in Brasília, a capital where back-room deals are customary when forging and nurturing alliances with an array of bickering parties. So when times got rough, alleged coalition associate members at the venal Congress had no problem in unsheathing swords.
Thus Rousseff found herself increasingly isolated in recent months, with many in her party quietly withdrawing their support. But said this, some in the party defended Rousseff as she made her last-ditch effort before the Senate this week.
Rousseff's successor Michel Temer, 75, the interim president who served as vice president before breaking with her this year, is now expected to remain in office until the end of the current term in 2018. But Temer and his PMDB, Brazilian Democratic Movement Party, which has been the Workers' Party's governing coalition main ally for more than a decade, is also deeply enmeshed in the colossal graft schemes staining Brazil's political system in recent years.
Since becoming interim president in May, Mr. Temer has had approval ratings nearly as dismal as Rousseff's. Adopting a more conservative emphasis, he named a cabinet without any female or Afro-Brazilian ministers, outraging many in a country where more than 51% of people define themselves as black or mixed race, according to the 2010 census.
Several of the men named by Temer have already resigned under the cloud of scandal, including his anticorruption minister and his planning minister, amid claims that they were trying to stymie investigations into the bribery engulfing the national oil company, Petrobras.
Now president Temer was recently found guilty of violating campaign finance limits, a conviction that could make him ineligible to run for office for eight years. Beyond that, a construction executive has testified that Temer was the beneficiary of a US$300,000 bribe, an assertion Temer disputes.
The impeachment effort has divided the Brazilian nation and stirred passions on both sides. Of the four Brazilian presidents elected since Brazil's democracy was re-established in the 1980s, Rousseff is the second to be forced from office through the impeachment process. In 1992, Fernando Collor de Mello resigned before the Senate could convict him on corruption charges. He was replaced by Italo Franco, a member of PMDB.
It's worth mentioning that Brazil's first elected post military dictatorship president (1985), Tancredo Neves, died during emergency surgery on the day he was supposed to take office, and was replaced by vice-president Jose Sarney, also from PMDB.
Rousseff will not go to jail after her conviction, but she expressed defiance throughout her trial, insisting that Brazil's economic crisis was largely the result of shifts in the global economy that cut commodities prices.
With Rousseff removed, the Workers' Party, a dominant force in Brazilian politics for much of the past decade and a half, is now scrambling to find its way in a political landscape where conservative voices are growing more powerful.
João Santana, the party's campaign strategist faces charges of illegally receiving millions of dollars in offshore accounts from the bribery scheme involving Petrobras. Even more damaging for the party, federal investigators are seeking graft charges against Lula da Silva, the former labor leader, founder of PT, who was president from 2003 to 2010. The move adds to mounting legal problems faced by Lula da Silva, who is still signaling that he plans to run for president in 2018, but could be barred if investigations advance..