Macri at G20 to represent the "new" Argentina and after crucial investments
Wednesday, August 31st 2016 - 12:34 UTC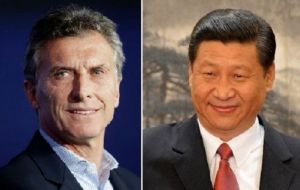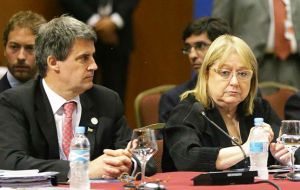 Argentine president Mauricio Macri is off to Hangzhou, China for this first G20 summit where he is expected to hold bilateral talks with the host Xi Jinping, Russia's Vladimir Putin, Germany's Merkel and probably UK prime minister Theresa May.
September is a crucial month for Macri, not only to turn around the Argentine economy, following on his promised second/half of the year recovery which has yet to surface and a possible cabinet reshuffle including foreign minister Susana Malcorra following her bid to succeed Ban Ki/moon at the UN seat.
But before landing in China, Macri is calling at Qatar whose leader, Sheik Tamim bin Hamad Al Thanim was recently in Buenos Aires with an interest in investing in Argentina. The Doha day visit with Macri's samll delegation is expected to take place in the same friendly spirit that a month ago in Buenos Aires when the Argentine president cut short the inauguration of his Peruvian peer to spend time with the distinguished visitor-investor.
The president's advance party in a private rented aircraft includes wife Awada, his foreign affairs advisor Fulvio Pompeo and bodyguards, while the rest of the delegation is flying directly to China. The full team is scheduled to be ready for talks on Thursday and is headed by finance minister Alfonso Prat-Gay and foreign minister Susana Malcorra.
The talks with China and Russian leaders are crucial for the confirmation of several billion dollars investments mainly in infrastructure and energy, but Macri is also scheduled to meet India's prime minister Narendra Modi, South Korea's prime minister Hwang Kyo-ahn and Australia's Malcolm Turnbull. Argentina must make a good showing since in 2018 it will be hosting the G20 summit in Buenos Aires.
Macri's return to Buenos Aires via San Francisco will be on 5 September, while in New York, next week, begins the decisive rounds for Ms Malcorra's ambition to succed Ban Ki-moon.
However whether Malcorra is finally elected, or not, a big question mark still, a cabinet reshuffle could confirm her as minister, (all admit she has been most successful in placing Argentina back in the world, beginning with Obama's visit last March) or even as ambassador in Madrid where her husband lives. Or even a high UN post in Geneva. Argentina meantime has also lowered the profile of another candidacy, ambassador in Austria, Rafael Grossi who has been positioned as a serious candidate to head the UN Atomic Energy international organization, with Western countries support.
Possible successors of Malcorra if she finally leaves are the current finance minister Prat-Gay, who always coveted the post; advisor Fulvio Pompeo or Carlos Foradori, the current deputy foreign minister who actually runs everyday business while his boss travels the world to reinsert Argentina and collect support for her UN seat ambition.