Obama praises Macri and his policies before the world's main leaders
Monday, September 5th 2016 - 06:55 UTC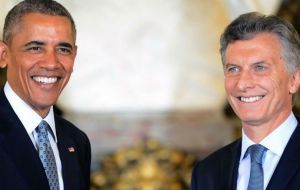 President Mauricio Macri got another big nod of support as US President Barack Obama highlighted him as one of the few national leaders setting an example for the world by going against a wave of protectionism gaining presence on a global scale, in a speech during the G20 conference.
"There are various presidents that are implementing the correct measures, like India, Indonesia, Italy and the new president of Argentina ... to redesign and give new force to the economy," said Obama.
The US president said that economies grow better when everyone participates in their growth, and called on the world leaders to take measures to prevent new "protectionist or populist" recipes from gaining space.
Obama had also briefly praised Macri personally before his speech congratulating him for the success of policies he had advanced on and how he was making changes "considering the whole of the population," according to representatives of Macri's delegation. This occurred during an informal meeting held after the presidential group photo and the G20 inaugural speech given by Chinese President XI Jinping.
In Obama's first state visit to Argentina on March 24, the US president had told the Let's Change leader that he could count on the United States and showed his enthusiasm for the policies that Macri was implementing, calling him a "man in a hurry" to "reconnect Argentina with the global economy." Since then, several officials from his administration have made state visits to Argentina, while US ambassador Noah Mamet has taken an active approach to lobbying on behalf of Argentine businesses in the United States.
Before the G-20 summit began yesterday, Macri met with Sun Yafang, the CEO of electronics company Huawei, a Chinese firm which specializes in electronic products and telecommunications equipment. Argentina's ambassador to China, Diego Guelar, said Macri had been very well received at the conference.
"The world and the G-20 nations firmly support what is happening Argentina. But such a deep change like what is being done now needs time and maturation," said Guelar in an interview with La Once Diez radio yesterday. The Ambassador spoke after Macri had held a pair of meetings with CEOs of major Chinese corporations. He emphasized the importance of China as a major partner for Argentina, and said it would be a key factor in its development in the next few years.
"When one comes from a process of so much divestment, generating employment and investment unfortunately takes more time than one would imagine," he said. Guelar noted that Macri was hoping to imitate China in how they were able to transform from having a closed market economy to an open one, and develop thanks to foreign investments.
Macri attended the opening of the G-20 summit, where he heard the speeches of his counterparts from China, the US, Russia and Germany. The common theme repeated were warnings over the "challenges to the global economy" that "low growth" in trade posed, with widespread questions about protectionism.
The Chinese president opened the summit underlining that he hoped the G-20 participants would discuss how they could be more efficient, inter-connected and tackle issues that affect the global economy.
When it was German Chancellor Angela Merkel's turn to speak, she downplayed the problems. "The situation isn't that critical ... That we are here together is due to increasing inter-connectedness of our economies," said Merkel. On the other hand, Russian President Vladmir Putin warned that the global economy's dynamism was slow, but at least positive. He said they needed to work on consolidating a policy of growth based on macroeconomic equilibrium.