Argentine minister to visit Russia and Italy to strengthen defense cooperation
Tuesday, September 6th 2016 - 17:03 UTC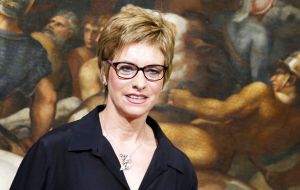 Argentina's defense minister Julio Martinez is travelling to Russia and Italy with the purpose of strengthening bilateral cooperation in defense issues, including the possible supply of hardware for the equipment depleted Argentine armed forces. Last July the Russian Federation chief of Land Forces, General Oleg Salijukov visited Buenos Aires.
The first stop will be in Kubinka,, 60kms from Moscow, to attend the International Fair "Army 2016" organized by Russia's defense ministry and which attracts over 2.000 suppliers in the field. Martinez and Argentina's chief of staff General Bari del Valle Sosa are special guests of minister Serguei Shoigú.
Apparently Kubinka is a community closely dependent to Russia's military industrial complex, it hosts tanks' tests areas and is the seat of the development and manufacture of the MIG fighter bombers.
According to Argentine media Russia is interested in supplying a replacement for the decommissioned Air Force Mirage fighter/bombers with the MIG-29; likewise the sale of helicopters, MI-17 for logistic support of Antarctic bases, which have proved to be very efficient and effective (Argentina purchased two units in 2012). Apparently Argentine officials last April during the V International Security Conference held in Moscow anticipated a firm interest.
Russia is also interested in supplying military land transport and armored vehicles. Apparently Argentina is behind schedule in its commitment to the bi-national Southern Cross peace force with Chile. However there is also a Chinese competitor, Norinco, which took advantage of president Mauricio Macri's visit to Shanghai to remind ambassador Diego Guelar that the former administration of Cristina Fernandez had signed a pre-accord for the supply of 8x8 vehicles.
From Russia, Martinez and his delegation will be heading to Italy to meet his peer, Roberta Pinotti, where they will be met by Argentine Science and Technology minister Héctor Lostri and the Air Force chief, Brigadier Enrique Amreim. In Rome the visiting delegation will sign an accord between Military Manufacturing (FM) and the Italy's Pietro Beretta to manufacture under license the 92 FS and PX4 pistols, to supply the security forces market and later export to the region.
Technical discussions are also scheduled between the Air Force chief Amreim and advisors with the local Alenia Aermacachi manufacturer. Argentina has expressed interest in acquiring ten training aircraft M-346 Master.