Trade, investments and Falklands in Sir Alan Duncan's agenda in Buenos Aires
Monday, September 12th 2016 - 06:33 UTC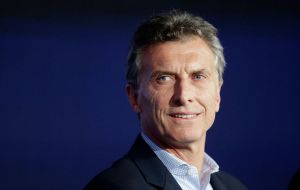 UK Foreign Office minister of state for the Americas and the Falkland Islands, Sir Alan Duncan begins this Monday a full agenda of activities in Buenos Aires with the purpose of promoting business, investments and normalizing bilateral relations, after more than a decade of distant when not frozen links under the Kirchner couple administrations. The Falkland Islands issue is also expected to be addressed but with "a constructive spirit".
Sir Alan Duncan will also be present at the opening of a conference on business and investment in Argentina which will be attended by a delegation of representatives from some forty top British companies who have expressed an interest in trade with Argentina as the two countries forge a new relationship of "mutual respect".
The British official apparently will also be meeting president Mauricio Macri, who has said on several occasions he wants to start a new era of relations with Britain despite historic disagreements over the disputed Falkland Islands.
Anyhow Alan Duncan, the first Foreign Office minister to visit Argentina since 2009, insisted Britain's commitment to the rights of the Falkland Islanders are "clear and will not change" ahead of the talks. But he also insisted he is "positive" about the potential for a trade deal between the nations after the UK's decision to leave the EU.
The Foreign Office said it was "an important step forward" following more than a decade of difficulties under the "isolationist approach" of Argentina's previous government.
Sir Alan said: "Our countries have many deep links, including in culture and language, and I hope my visit will help us take a step forward together. Of course, our commitment to the rights of the Falkland Islanders is clear and will not change, and we will continue to support them as they look to develop their economy."
Foreign minister Susana Malcorra said last week in London that President Macri's administration was intent in ending an era of confrontation and was hopeful of a long term solution to the Falklands' dispute.
The minister advanced that joint ventures between the two countries on hydrocarbons was "a sensible thing to discuss and could make sense", and argued Argentina might be willing to lift restrictions on air flights from Latin America if some of the flights went direct to Buenos Aires.
Argentina is willing to consider resuming direct flights to and from the Falklands Islands and a joint UK-Argentine exploration of hydrocarbons around the Islands, the Argentine foreign minister, Susana Malcorra, has said.
Trade between the UK and Argentina accounted for £1.14 billion in 2014 and British exports have increased by 29% since last September.