Cristina Fernandez to court on public works contracts between 2007 and 2015
Tuesday, September 13th 2016 - 06:55 UTC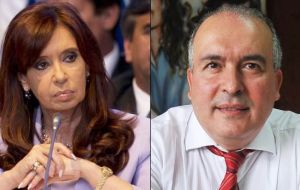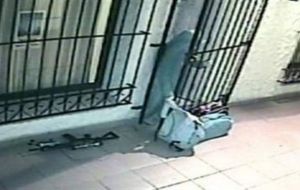 Argentina's ex-president, Cristina Fernandez, has been subpoenaed to testify next 20 October as part of an investigation into the awarding of public works contracts during her 2007-2015 administration, according to court papers filed on Monday. She denies wrongdoing and corruption claims, and accuses Argentina's current leader, Mauricio Macri, of using the courts to persecute her.
However last June Fernandez's former public works secretary, Jose Lopez, was caught trying to stash millions of dollars in a Catholic convent on the outskirts of Buenos Aires. He has also been subpoenaed.
"The reported crimes started in late 2003 and were related to public works contracts that the state awarded to a small group of businesses, without following regulations," said an order published by the official Judicial Information Center.
Lopez started hurling bags of cash into the Our Lady of Fatima convent when the elderly nuns inside were slow to answer the door in the early morning hours of June 14, according to a neighbor who witnessed what happened and called 911.
Before police arrived a security video shows the nuns eventually came to the door and accepted the remaining bags of cash. They appeared unfazed by the automatic rifle that Lopez brought to the scene and placed on the floor by the door. Prosecutors are also investigating the nuns.
At the end of June police searched properties owned by Cristina Fernandez in a separate case accusing her of using a family real estate company to illegally enrich herself.
The scandals have stopped the ex president from mounting serious opposition to Macri while he dismantles the heavy state controls she put on the economy. He is hosting an international investors conference in Buenos Aires this week as part of his bid to get Latin America's No. 3 economy moving again.
Macri has also taken some unpopular steps, like reducing home heating and electricity subsidies, causing a spike in the utility bills paid by cash-strapped families already squeezed by annual inflation of 40% and a shrinking economy.
His popularity nonetheless remains high while the hard line opposition led by Cristina Fernandez is distracted by the court cases. Also most provinces need federal support to pay staff and basic services which helps to construct a manageable coalition in Congress.