"Prudence in dealing with Malvinas", the Macri objective is discussing Falklands' sovereignty
Monday, September 19th 2016 - 06:37 UTC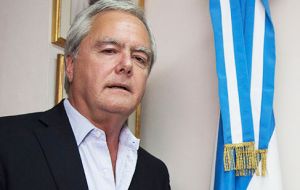 With Malvinas "we have to be most prudent", commented the Argentine Senate provisional president Federico Pinedo on the Argentine/UK joint cooperation statement with a specific chapter on the South Atlantic including flights to the Falklands and lifting restrictions for the Islands economy development.

However he immediately ratified that president Mauricio Macri's administration objective is discussion of the Falkland/Malvinas Islands' sovereignty.

"We must be most prudent, we are well aware that Malvinas is not an issue that will be solved in a couple of minutes or overnight, but we are determined to solve it" insisted Senator Pinedo. "What I mean is that we want to sit at a negotiations table and discuss the Islands' sovereignty with Great Britain, as has been mandated repeatedly by United Nations".

Speaking to a local Buenos Aires radio station, the Senator who says his roots go back to one of the officers on the United Provinces administration of the Falklands/Malvinas Islands in the early XIXth century, also commented on the possibilities of joint exploitation of hydrocarbons in Falklands' waters and cooperation in fisheries common interest.

Regarding hydrocarbons, "we have to be very careful in the path of joint exploitation so that we don't affect our negotiation position in the dispute, which is what we should aim to".

As to air links, "the UK accepted the previous Argentine administration position, which was more flights but as long as they accept more in and out flights from the continent, and this was finally accepted", indicated Pinedo.

"Things are going to begin to happen" anticipated the Senator, Macri's articulator in Congress.

"Government has expressed its commitment to dialogue and to find a common reason and common ground between the two sides, and that is what we are going to try and reach", concluded Pinedo.