Lula must stand trial on Petrobras probe corruption charges
Wednesday, September 21st 2016 - 09:42 UTC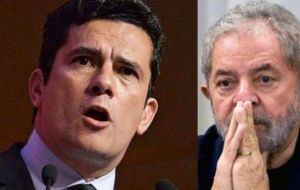 The Brazilian judge overseeing the investigation of a US$2 billion corruption scheme centered on state oil company Petrobras ruled Tuesday that former President Luiz Inacio Lula da Silva must stand trial on charges arising from the probe.
Judge Sergio Mora said that federal prosecutors showed "just cause" to allow the charges against Lula, his wife, and six other defendants to go forward.
The prosecutors alleged that Lula received benefits totaling 3.7 million reais (roughly US$1.1 million) from OAS, one of the construction companies implicated in the Petrobras bribes-for-inflated contracts scandal.
The indictment says that OAS refurbished a luxury beachfront apartment Lula owned in the resort of Guaruja, near Sao Paulo, though the erstwhile president denies the residence is his.
"The probative elements are still questionable, but, in this preliminary phase, it is not required that the demonstration of criminal responsibility be conclusive, but rather that just cause (to proceed to trial) is shown," Moro wrote in his decision.
Lula insists that prosecutors have no evidence he owns the residence in Guaruja.
"I'm at the full disposal of the serious people in the federal prosecutors' office, in the Federal Police and in the judiciary," the 71-year-old politician said last week in a nearly one-hour speech following prosecutors' announcement of the charges.
Lula, who led Brazil from 2003-2011, remains the nation's most popular politician and is expected to be a candidate in the 2018 presidential election.
His successor and political protégé, Dilma Rousseff, was removed from office last month after the opposition-controlled Senate found her guilty of irregular budgetary manipulation.