Pinochet ordered the 1976 assassination of opposition leader Letelier, says CIA
Saturday, September 24th 2016 - 10:24 UTC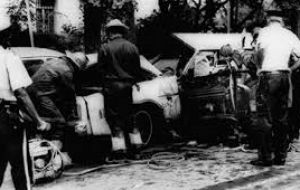 The United States on Friday gave Chilean President Michelle Bachelet declassified CIA documents confirming that former Chilean dictator Augusto Pinochet personally ordered the 1976 assassination of opposition leader Orlando Letelier. US Deputy Secretary of State Heather Higginbottom presented the documents to Bachelet during a ceremony on the site of the killing in the US capital, two days after the 40th anniversary of the brazen attack.
Bachelet herself is a former opposition leader who was tortured under the military regime of General Pinochet, who ruled Chile with a dictatorial hand from 1974 to 1990.
The files include a 1987 CIA report in which the intelligence agency attests that Pinochet personally ordered his intelligence chief to plan the fatal attack.
Letelier had been a Chilean ambassador and foreign minister under the Socialist regime of Salvador Allende. After Pinochet seized power, Letelier was imprisoned and tortured before being exiled to the United States, where he became a fiercely outspoken opponent of the general's rule.
On September 21, 1976, as Letelier was driving along Washington's Embassy Row, a bomb ripped through his car, instantly killing him and his American assistant, Ronni Moffitt, and injuring her husband
The bold assassination carried out by the secret police of a foreign power in the heart of Washington sparked a furious reaction.
The documents handed over Friday are the last of those linked to the assassination, the State Department said. Secretary of State John Kerry had turned over an earlier set to Bachelet when he visited Santiago last October.
It had long been known that Pinochet's secret police were behind the killing, but the new documents confirm the personal responsibility of the former Chilean leader, who died in 2006.
In 1995, the Chilean Supreme Court sentenced two generals implicated in the assassination to terms of six and seven years in prison. The Pinochet regime killed an estimated 3,200 people and tortured 38,000 from the time the army commander seized power in 1973 to the return to democracy in 1990.