Corbyn crushes MPs challenge and is confirmed as undisputed Labour leader
Monday, September 26th 2016 - 10:22 UTC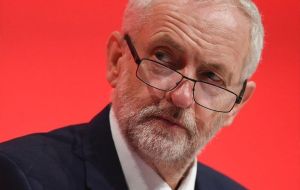 Left-winger Jeremy Corbyn was re-elected British Labour leader on Saturday, seeing off a challenge from MPs but leaving the main opposition party split as critics said it was even further from power than before. Supporters in Liverpool leaped to their feet cheering as the 67-year-old was confirmed winner with 61.8% of the vote among party members and supporters, easily defeating challenger Owen Smith.
In his acceptance speech, Corbyn urged unity, pledging to "wipe the slate clean" after accusations of bullying and fears of an irreparable breach between left-wingers and moderates.
"We have much more in common than that which divides us. As far as I'm concerned, let's wipe that slate clean from today and get on with the work we've got to do as a party together," he said.
Corbyn increased his vote share from the 59.5% he received on his initial election last year, when he put an anti-austerity, anti-nuclear agenda at the forefront of British politics for the first time in a generation.
His commanding victory is a major blow to Labour MPs who rebelled against him after June's vote to leave the European Union, many of them moderates who believe his socialist views will never be accepted by most voters.
Corbyn was accused of lacklustre campaigning against Brexit, and many now fear he cannot provide the necessary opposition as Prime Minister Theresa May's Conservatives negotiate the terms of withdrawal.
He claims he has energised people who felt left behind by mainstream politics, drawing comparisons with anti-establishment movements across Europe like Greece's Syriza. But Labour is lagging far behind the Conservatives in the polls and Corbyn's personal approval ratings are at rock bottom.
"Labour is not going to win any elections in the near future," said Anand Menon, professor of European politics at Kings College London.
Former Labour foreign secretary David Miliband, a centrist narrowly beaten to the party leadership by his brother Ed in 2010, said this week his policies "wouldn't work". He wrote in the New Statesman magazine, "We have not been further from power since the 1930s".
Labour's home affairs spokesman Andy Burnham said the party's "war of attrition" must now stop but urged Corbyn to build support among the public, not just activists. "We cannot measure our success by the size of the membership or indeed the size of the rallies that we are holding," he underlined.
Labor membership has soared under Corbyn's leadership, from just 200,000 last year to around 650,000 now. For many supporters, he has an almost messianic appeal and claims this movement can transform into electoral success.
Len McCluskey, leader of the trade union Unite and one of Corbyn's key backers, said MPs should now stop the "sniping, plotting and corridor coups".
Several Labour MPs indicated they would accept the result. "Time for unity", tweeted Hilary Benn, whose resignation earlier this summer prompted the walkout of more than 40 MPs from Corbyn's shadow cabinet.
Reports suggest a dozen may now return, although many prominent figures are likely to stay away. In a key test of what lies ahead, the party executive was due to discuss a proposal to give Labour lawmakers a vote on members of the shadow cabinet, a move that the leadership is resisting.
MPs will also be pressing for greater assurances that Corbyn's supporters will now not try to remove those of them who have been hostile to his leadership.