Iran-Saudi Arabia can't agree on limiting oil supply: "maybe in November"
Wednesday, September 28th 2016 - 12:26 UTC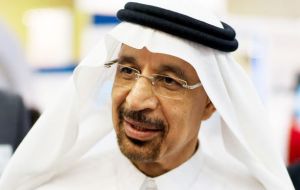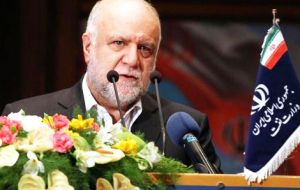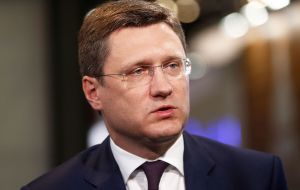 Iran rejected on Tuesday an offer from Saudi Arabia to limit its oil output in exchange for Riyadh cutting supply, dashing market hopes the two major OPEC producers would find a compromise this week to help ease a global glut of crude.
"The gap (in views) between OPEC countries is narrowing. I don't expect that an agreement will come out of the consultations tomorrow," Saudi Energy Minister Khalid al-Falih told reporters.
Iranian Oil Minister Bijan Zanganeh said earlier: "It is not the time for decision-making." Referring to the next formal OPEC meeting in Vienna on Nov. 30, he added: "We will try to reach agreement for November."
The Organization of the Petroleum Exporting Countries will hold informal talks on Wednesday. Its members are also meeting non-OPEC producers on the sidelines of the International Energy Forum, which groups producers and consumers.
Oil prices have more than halved from 2014 levels due to oversupply, prompting OPEC producers and rival Russia to seek a market rebalancing that would boost revenues from oil exports and help their crippled budgets. The predominant idea since early 2016 among producers has been to agree to freeze output levels, although market watchers have said such a move would fail to reduce unwanted barrels.
A deal has also been complicated by acute political rivalry between Iran and Saudi Arabia, which are fighting several proxy-wars in the Middle East, including in Syria and Yemen. On Tuesday, several OPEC delegates said the positions of Saudi Arabia and Iran remained too far apart.
"There is a move forward, but they (OPEC) haven't got to the finish," Russian Energy Minister Alexander Novak said after meeting Falih and Zanganeh. Novak and Falih said a deal was still possible later this year.
Three OPEC sources said Iran, whose production has stagnated at 3.6 million barrels per day, insisted on having the right to ramp up to around 4.1-4.2 million bpd, while OPEC Gulf members wanted its output to be frozen below 4 million. Several OPEC sources said Iran effectively rejected the offer despite last-minute attempts by Russia, Algeria and Qatar to rescue a deal.