One in three Argentines, 8.8 million live in poverty and 1.7 million are indigent
Thursday, September 29th 2016 - 10:35 UTC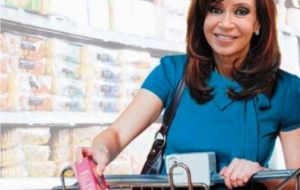 Nearly one-third of Argentina's population lives in poverty, the government said on Wednesday in the first official poverty data published in three years, underscoring the difficulty of reaching President Mauricio Macri's stated "zero poverty" goal. The ranks of the poor surveyed in Argentina totaled 8.8 million people, or 32.2% of the population in 31 urban areas surveyed.
Just over 6% of the population (1.7 million) qualified as "indigent" in the second quarter of 2016, the revamped statistics agency Indec said. Indec was exposed to widespread allegations of manipulation by former populist president Cristina Fernandez. The agency last published poverty data in October 2013 for the first half of 2013, when it said just 4.7% of people lived in poverty, "less than in Germany", said one of the Kirchner ministers at the time.
In the absence of reliable government data, Macri has cited poverty statistics from researchers at the Catholic University of Argentina. Those data showed 32.6% of Argentines lived in poverty as of April, up from 29% in December 2015, as Macri's decisions to lift currency controls sent inflation soaring over 40%.
"Now we know the truth of this heartbreaking situation: one out of three Argentines is below the poverty line which hurts but also makes us furious, and commits us to work united and hard, every day, so that we don't have to live with this situation and keep advancing towards 'zero poverty'", said president Mauricio Macri, speaking after Indec chief Jorge Todesca.
The indigence threshold for a house hold with a family of four (a couple and two children, 6 and 8) is the basic food basket equivalent to 5.176 Argentine Pesos (approx US$ 350) in August. On the other hand to keep above the poverty line a similar household must make 12.490 Pesos (approx US$ 835). The Total Basic Basket includes food, clothing and basic services.
As to the regional distribution, Northwest Argentina has 40.1% of poverty, followed by the Northeast with 35.8% and the Cuyo region, next to central Andes, 35.6%. Indigence is highest in the Pampas with 7.7% and the Northwest, 7.6%.
Patagonia is a lucky average region with poverty at 24.7% and indigence at 3.3%.
The head of Indec's Households Standing survey, Cynthia Pok said that the data released on Wednesday was in no way comparable to that of the Kirchner administrations since they were not properly done, rather manipulated.
"This is the true starting point, with balanced economic factors, no clamps, no financial conflicts with the world, no budget or regulation distortions which led to alleged situations that had nothing in common with reality, they were mere fantasy, manipulated wonderland", said Macri who then added "these are the facts and on these I want and accept to be assessed in the zero poverty target".
The Argentine president pointed out that clearly this is not a task of government or an only government, "it's a challenge which we must all address through instruments such as a dialogue table, joint work, developing proposals and the infrastructure of the country".