Lula da Silva formally charged with corruption related to contracts in Angola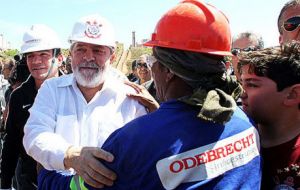 Brazilian prosecutors said on Monday they had charged former President Lula da Silva and Marcelo Odebrecht, ex-CEO of engineering group Odebrecht SA, with corruption related to contracts in Angola.
Lula is facing several other charges related to a sweeping kickback probe at state-run oil company Petrobras.
The new charges say Lula used his influence while in office to secure financing from Brazil's development bank, BNDES, for Odebrecht projects in Angola - and that Odebrecht in return paid 30 million reais (US$9.31 million) in kickbacks to Lula and others.
Prosecutors also say Lula interfered in a state-run development bank to assure financing for a small firm owned by a nephew of his late first wife. The charges include corruption, money laundering, trafficking of influence and criminal organization.
The ex president has denied any wrongdoing.
A judge last month ruled that Silva must stand trial on money laundering and corruption charges involving company-financed improvements at a beachfront apartment. He says he's never owned the apartment