Ushuaia celebrates 132th anniversary with a jumbo paella for 12.000 people
Thursday, October 13th 2016 - 10:05 UTC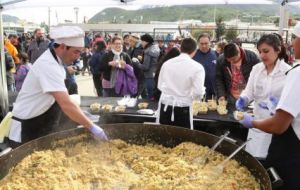 Ushuaia in the extreme south of Argentina and capital of Tierra del Fuego province celebrated on 12 October the 132th anniversary of its foundation with several activities including a jumbo popular paella for 12.000 people. The gastronomic display was sponsored by city authorities and New San, a maquila group which assembles electronic products in Tierra del Fuego under a promotion system implemented by Buenos Aires.
Ten huge special pans were distributed in downtown and portions were distributed free of charge among residents following the traditional parade. According to the catering company the paella demanded a ton of sea food (mainly mussels, squid, shrimp), 700 kilos of vegetables (onions, peas and peppers), 600 kilos of rice and 500 kilos of chicken breasts, plus thirty cooks.
"To be part of these initiatives means showing what we do daily, that is passion and vocation. We have checked every detail so that people can enjoy and experience the flavors and celebrate the city's anniversary with the best paella", said Luis Bernal head of the catering company.
Ushuaia mayor Walter Vuoto said that "recent months haven't been easy", but "we are beginning to improve and we can look ahead with certainty". Vuoto opened the parade which included schools, community organizations and military representatives seated in the capital of Tierra del Fuego.
Tierra del Fuego is cash strapped and had to receive ample financial support from the federal government. Besides it suffered a several months conflict because local unions rejected a reform of the pensions' system which included the occupation of Government House for months, plus pickets and clashes with riot police.
Apparently plans to dismantle the promotions system which has attracted some industries to Tierra del Fuego, has also been frozen.