Falklands military exercises: Governor Bertone condemns "UK's bad faith"
Tuesday, October 18th 2016 - 07:48 UTC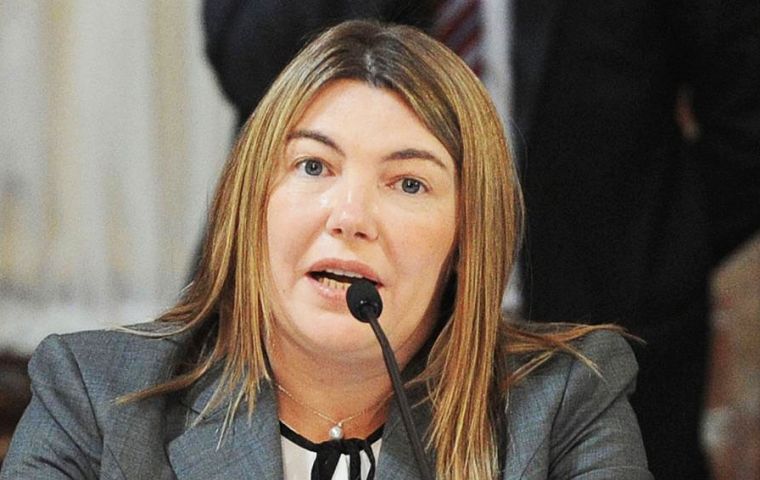 Argentine Tierra del Fuego governor Rosana Bertone joined the group of protestors condemning the military exercises, including launching of Rapier missiles, announced by British forces stationed in the Falkland Islands, and accused London of acting in "bad faith" just a few days after releasing a joint statement with Argentina to improve relations.
"The UK bad faith is evident, only a few days after the release of a joint statement with Argentina" said Bertone, who under the Argentine constitution is the governor of Tierra del Fuego, Antarctica and South Atlantic Islands (including the Falklands).
She added that the militarization of the South Atlantic by the British Empire has to be strongly rejected since it is a territory that legitimately belongs to Argentina.
"The news only merits the strongest unanimous rejection from all the international community which recognizes our sovereign rights over the Malvinas islands and calls for dialogue and keeping peace" Bertone affirmed. "This is clear evidence of bad faith from the United Kingdom".
The issue was also underlined by Jorge Lopez who is chair of the provincial office on Affairs relative to Antarctica, Malvinas and South Atlantic islands and surrounding maritime spaces.
"These military exercises are not new, including launching missiles, but this comes after a recent joint statement to retake bilateral dialogue in good faith, and in the understanding of cooperating in keeping world peace and security", Lopez said.
Governor Bertone "instructed me to communicate this illegal unilateral action from the UK to all the countries of our Large Motherland which has also expressed solidarity with Argentine rights over the Malvinas, emphasizing that this trampling from the usurper puts at risk continental security".
UK has been holding illegal military operations for years in "our Malvinas" said Lopez who also questioned that the global community is in favor of world peace, "but does not condemn as it should this aggression in an area declared as peace zone by the United Nations.