Uruguay expects a no-growth cruise season; Buenos Aires port rates discourage companies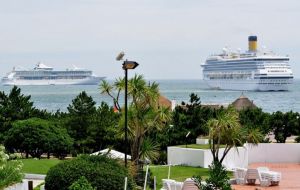 Uruguay is expecting some 150 cruise calls this coming season 2016/17 which begins next month and represents some 300.000 visitors, according to Tourism minister Liliam Kechichian who nevertheless admitted that growth prospects are somehow behind schedule because of the high costs of reaching and operating in the port of Buenos Aires.
"We are expecting 97 cruise calls in Montevideo and 54 in Punta del Este although we will continue to suffer the consequences of some absent cruise companies which normally tour Argentina, Brazil and Uruguay", said Kechichian who added that the high rates charged to have channel access to Buenos Aires, imposed by the previous Argentine government, are considered "excessive" by some of those companies.
Kechichian revealed that Uruguay has been in contact with Argentine port authorities on the issue and most probably for the following season, 2017/18, "things will be looking much better" and again the companies involved in the Argentina, Brazil and Uruguay circuit "should be returning".
However "re-conquering the cruise business that was diverted to Asian circuits won't be an easy task, but our port authorities are in standing contact with Buenos Aires and I've done something similar with (Argentine) tourism minister Gustavo Santos" pointed out the Uruguayan minister.
According to official stats during the 2015/16 cruise season, 105 vessels called in Montevideo and 56 in Punta del Este totaling 431.000 passengers of which 317.000 including crew members landed in Uruguay. This was estimated to have injected some 11 million dollars to the local economy.
Kechichian pointed out that despite less calls, "we are expecting a similar number of landings as last year, around 300.000, since although the number of vessels is less they carry more passengers"
The minister also confirmed that Costa Cruises will continue to make Montevideo its passengers' exchange port and Norwegian Cruise Line "could finally decide to return". On related issues Kechichian also underlined the improved security measures in the Old City of Montevideo with an extended streets' camera system. "Last season we didn't have a single complaint even involving petty crimes".
Cruise tourism conference in Punta del Este
This week October 27 and 28 Punta del Este will be hosting the Fourth Regional meeting of Cruises and Fluvial tourism with the purpose of promoting the cruise business and exchange ideas with the industry.
Tourism and port authorities together with cruise companies, tourism operators, and local and international experts will be meeting of conferences and debates during the two-day meeting at the Punta del Este Convention and Exhibition Center.
The event is sponsored by the Uruguayan ministry of Tourism, the National Ports Authority, the Hydrographic Department and the local governments of Colonia, Maldonado and Montevideo.