First Mercosur test for Uruguay´s free trade agreement negotiations with China
Monday, October 24th 2016 - 18:11 UTC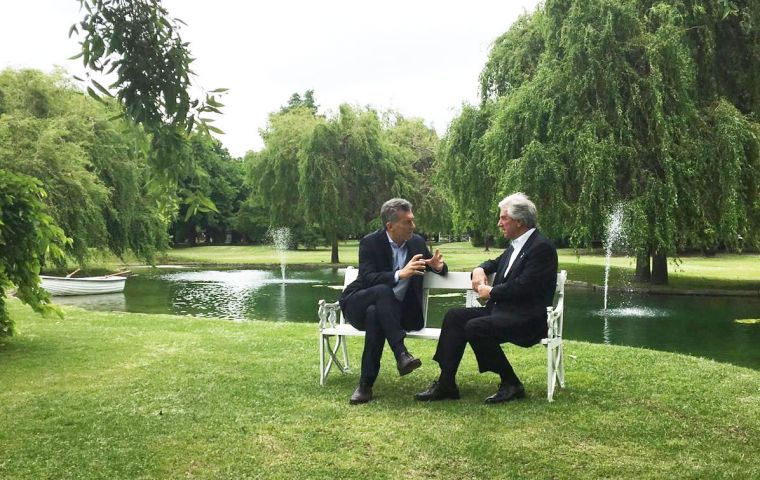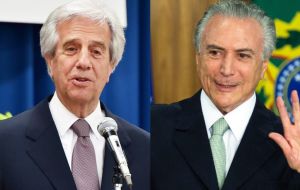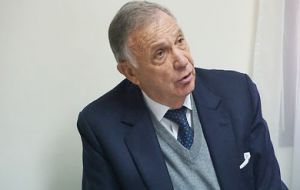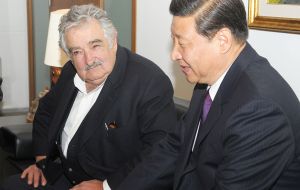 Uruguay and Argentina, and their cabinets will be meeting this Monday in Buenos Aires to address a bilateral agenda, which was agreed long before hand, but the real issue will not necessarily be trade, dredging canals, pulp mills, customs or facilitating people's movement, but rather the negotiations for a free trade agreement which supposedly Uruguay is about to begin discussing with China.
President Tabare Vazquez only last Friday returned from a twelve-day visit with ministers to several Chinese cities, which included meetings with Beijing leading officials and culminated with talks with president Xi Jinping at the Great Hall of the People. According to the official Beijing release the two heads of state decided to establish a China-Uruguay strategic partnership "based on mutual respect, equality and mutual benefit, so as to deepen and expand mutually beneficial and friendly cooperation in various fields between the two countries and jointly write a new chapter of bilateral relations".
Further on the Chinese release points out that "both sides enjoy a sound momentum of cooperation in economy, trade, investment, finance, agriculture, fishery, energy, locality, football and other areas. Uruguay welcomes Chinese enterprises to increase investment in the infrastructure construction of the country, and is willing to negotiate a free trade agreement with China".
However President Vazquez and foreign minister Nin Novoa anticipated that the visit had set the foundations for a free trade agreement which is expected to be finalized in two years in time for the thirtieth celebration of the establishment of full diplomatic relations between the two countries. Likewise China, they said in several interviews, is ready to invest in Uruguay's much needed infrastructure.
In effect Uruguay has two main short term challenges, on the one side Australia and New Zealand's have sprinted ahead in agreeing with China to gradually lower tariffs mainly for beef, which has become the main commodity Uruguay exports to the world's second largest economy. This is of concern because distance and freight are already a significant drawback for Uruguayan beef to compete.
On the other hand Uruguay needs urgently investment in infrastructure (roads, railways, bridges) to ensure that Finland's UPM finally decides to mount its second pulp mill in the country. This was the main condition imposed by UPM and the initial bill is estimated in a billion dollars.
But despite all the good will, Uruguay is a member of Mercosur, and will have to consult, or should have consulted with its powerful regional neighbors, Argentina and Brazil. It's hard to see Argentine manufacturers, and particularly Brazilian industry, accepting that China can flood their markets with highly competitive prices through Uruguay. That is, Uruguay as the open door for the 250m Mercosur common market.
Last week in an anticipation of what may happen, president Macri told Uruguayan media that he was surprised and would have preferred for such negotiations with China on trade to have been done at Mercosur level. "Any how I will make my best to help my good friends and brothers from Uruguay to achieve their goals".
Macri also pointed out that Mercosur priority currently is the long delayed trade and cooperation deal with the European Union, and later with the Pacific Alliance. He also regretted that Uruguay did not have a more determined stance in the case of the Venezuelan situation, although understanding president Vazquez problems inside the ruling coalition.
Likewise from Brasilia it was reported that foreign ministry sources had advanced that if that was the path chosen by Uruguay, a free trade agreement with China, "maybe it was time for Uruguay to make a choice, Mercosur or China".
Vazquez said that he talked about the issue with Macri and likewise with Brazilian president Michel Temer during a meeting in New York on the sidelines of the UN general assembly in which the prevailing idea was for Mercosur to open to the world and increase trade even at country to country level with third parties.
With certain irony the Brazilian sources said that "maybe Vazquez had some language and interpretation problems" when he met Brazilian officials.
Besides in the Venezuela issue and the removal of ex president Dilma Rousseff, Uruguay adopted a foot dragging attitude and refused to condemn the Nicolas Maduro regime and at the same time caustically accepted the "illegitimate" removal of Rousseff legitimately elected by the people.
Nin Novoa also had to publicly apologize to Brazil for claiming before the Uruguayan Senate that the Temer administration had tried "to buy" Uruguay's support in the Venezuela controversy.
Last but not least, several Uruguayan experts in trade and international law recalled that Mercosur Resolution 32 remains in full force and this means all negotiations with third parties must be addressed jointly or with the consensus of other members. Until that resolution is eliminated or modified the clamp remains, said former foreign minister Didier Opertti.
Equally significant a former Uruguayan ambassador in Washington pointed out that a similar picture was played only three years ago when then president Jose Mujica visited China and met with XI: he returned saying that Beijing had promised financing for a deep water sea terminal in the east of the country and for recovering the railway system. The deep water port project has been shelved and not a single Yuan penny has been invested in rails or trains.
Alvaro Diez de Medina also recalled that China so far has signed 13 free trade agreements, is negotiating another eight and considering an additional five. None of them have the same format and the one with Australia demanded nine years from 2004 to 2015.
Nevertheless Vazquez left China pledging to have mandarin taught in Uruguayan schools and to send football players to help improve China's chances in the game.