Ex president Jorge Batlle, son of one of the most influential political families in Uruguay has died
Tuesday, October 25th 2016 - 08:29 UTC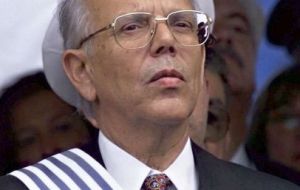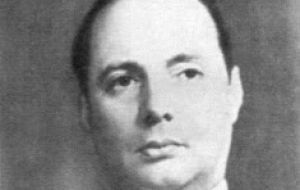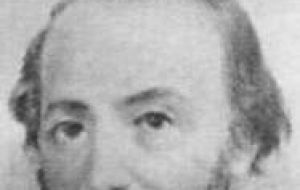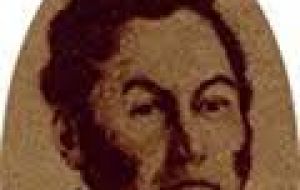 Former President Jorge Batlle, an extroverted and irreverent politician who was a force in Uruguayan politics for half a century and led it during one of its worst economic recessions, died on Monday.
On Tuesday he would have turned 89. Batlle underwent surgery for a cerebral hemorrhage after he fainted and struck his head earlier this month during an event for his Colorado Party. But the former president never fully recovered and the Sanatorio Americano where he was hospitalized announced his death late Monday.
Batlle, who was known as outgoing, even politically incorrect at times, remained active in politics until the very end, poking his successors through newspaper columns and social media after leaving office. He practiced law, worked as journalist and was a senator and a member of the lower house of Congress before serving as president from 2000-2005.
Batlle belonged to an extraordinary political family. His great-great grandfather, a merchant arrived in Montevideo from Catalonia in 1800, was involved in fighting the English invasions and later head of the charity hospital of the city. His son Lorenzo Battle Grau joined the army and was also involved in politics becoming president (1868/1872).
The colonel had two sons, Jose and Lorenzo. Jose Batlle y Ordoñez (1856/1929) was the most outstanding of the several Batlle generations. He was three times president, firstly interim at the turn of the century, and then again elected 1903/1907, and 1911/1915. He transformed Uruguay, put an end to civil strife, organized the state, and set up government monopolies in strategic areas of the economy. His Batllismo policy, later identified with social democracy set the foundations for a modern country and even today is part of standing political inspiration in Uruguay.
Jose Batlle Ordoñez had a special inclination towards the nephew he raised, Luis Batlle Berres, who was also entirely dedicated to politics, and completed the whole circuit, from councilor, deputy, political exile when a civilian authoritarian government in the 1930s, senator and finally president. However his economic policies in the fifties were not successful, a closed economy, promoting manufacturing to substitute imports, mostly financed with taxes on agriculture. Luis was defeated in the 1958 election when the opposition National party finally managed its first win since 1870.
But that same year his eldest son Jorge Batlle was elected to the Lower House, which he would repeat until the 1973 military dictatorship. In the meantime following the death of his father Luis (1964) he had taken control of one of the two main wings of the Partido Colorado, and even run for president twice, 1966 and 1971. Under the military dictatorship he was jailed several times, had a newspaper and a radio shut down, and exposed to economic hardship plus political proscription until 1984, when the return of democracy.
Jorge Batlle´s longtime lieutenant in journalism and politics, Julio Maria Sanguinetti was elected twice president 1985/1990 and again 1995/2000. This somehow distanced Batlle from Sanguinetti who formed his own grouping in the Colorado party, although they remained in coalition, until the 1999 election when the Batlle scion, on the fifth attempt, finally became president.
He had promised that his presidency would be "fun," but it was overshadowed by an economic depression, a spillover from neighboring Brazil and Argentina that brought Uruguay, long one of Latin America's most stable economies, close to bankruptcy.
The slump left one of every three Uruguayans below the poverty line - a blow to a country where generous social benefits inspired in Batllismo had for years assured one of the region's highest living standards.
As president, Batlle also pursued closer ties with the United States at a time when leftists were taking power in Argentina, Brazil, and Venezuela and distancing themselves from Washington.
In 2001, Uruguay was hit by an outbreak of foot-and-mouth disease that forced the country to suspend all exports of meat, a backbone of the economy. Shortly after that, Uruguay was dragged down by a melting of Argentina's economy and a run on the Uruguayan banking system by Argentine depositors, who traditionally fear the lack of legal security in their country.
By 2002, Uruguay's foreign reserves had dived and unemployment reached 20%. Batlle ignored IMF recommendations to default and used his good relation with U.S. President George W. Bush to help obtain US$1.5 billion in credit to stave off default.
Battle broke diplomatic relations with Cuba in 2002 after a war of words with Fidel Castro following Uruguay's decision to condemn Cuba's human rights record in an annual U.N. vote in Geneva. Relations were restored in 2005.
Batlle was succeeded by Tabare Vazquez, Uruguay's first president supported by a catch-all-coalition of small parties from Socialists, Communists and ex guerrillas to Christian democrats.
Although Batlle promised to steer clear of politics after leaving office, he often criticized Vazquez and his successor, Jose Mujica, and their Broad Front coalition.
Jorge Batlle loved horse racing, had his own stud farm, enjoyed farming, controversy, reading politics and history, and was a great in debate in parliament. He had the capacity to attract young people and interest them in politics, but he admitted having failed to transform Uruguay. Contrary to his father Luis, a protectionist, Jorge Batlle was a convinced supporter of free markets, an open economy, floating currencies, what in Latin America is reviled as neo-liberalism in economic terms.
However as he admitted, Jorge Batlle and his family were brought up under the umbrella of the Uruguayan state and despite all his efforts he was unable to redirection the economic policies and thinking of his great uncle and his Batllismo ideals which still prevail in Uruguay. But as a good combatant of ideas he passed away doing what he loved most in his 88 years, politics.
The Uruguayan government has declared a day of national mourning and flags at half mast. Batlle will lie in state at the Parliament building, and later at the Colorado Party seat, and finally taken to the family's mausoleum.