Macri and Vazquez agree that the trade approach to China should be done from Mercosur
Tuesday, October 25th 2016 - 10:29 UTC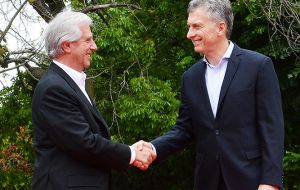 Argentine president Mauricio Macri promised his Uruguayan peer Tabare Vazquez to look into the draft of a Uruguay/China free trade deal, and expressed their deep concern about political events in Venezuela suggesting that under the current circumstances the Nicolas Maduro government cannot be considered a member of Mercosur.
During a meeting on Monday midday at the Olivos presidential residence in Buenos Aires, Macri said that his government understands Uruguay´s need to have access to other markets and open to the world's second largest economy.
"China is an option for Uruguay. With Vazquez we ratified the need to speed up this deal, in principle from inside Mercosur, but anyway I promised an open attitude and to look into what Uruguay is requesting", said the Argentine leader.
"We understand that Uruguay produces food for ten times their population so it is only natural they should look for markets, but the ideal would have been for the issue to have been presented by Mercosur as a block, as we are doing with the European Union" emphasized Macri.
Vazquez underlined the very generous attitude of Macri and thanked Argentina for having such consideration.
"We coincided in advancing in a free trade agreement with China through Mercosur. But is we take into account that Beijing came up with the possibility of such a deal six years ago and Mercosur did not reply, it would be positive that at the next Mercosur meeting we address the issue", indicated Vazquez.
"In the meantime Uruguay will continue to explore the way to advance in a free trade project with China. We've already presented the road map for such a treaty and the extent planned. China has not replied yet but when they do, it will be shared with all Mercosur members", he added.
Regarding Venezuela both presidents agreed that under the current situation, "we are deeply concerned with the political problems, and we shared the opinion that under these circumstances they can't be members of Mercosur. The Maduro administration must be condemned and disavowed by all American countries since there is no respect for human rights"
Vazquez went further and said concern, regrettably grows by the minute and "we are looking forward to a peaceful solution to the controversy, to dialogue between the Venezuelan government and the opposition. We also talked about the mediation from Pope Francis".
Macri and Vazquez added that during the next Mercosur meeting whether to apply or not the democratic clause on Venezuela will be considered, since that is the correct place to consider such option.
"Uruguay will be attending the meeting and demand respect for peoples' right to express their opinions and be respected. That is the essence of democracy and the direct participation of peoples", added the Uruguayan leader.
Other issues considered by the presidents were drugs and crime, pollution in shared rivers and water ways, natural gas sales and the possibility of building another bridge across the River Uruguay that acts as a natural border between the neighboring countries.
Finally Vazquez who never had a good relation or chemistry with the Kirchner couple was most grateful with Macri and his hospitality. "I am profoundly grateful for his hospitality and friendship, with the Argentine president we have found ample paths of understanding".