Russian Task Force passes through Gibraltar Strait; Spain denies refueling at Ceuta
Thursday, October 27th 2016 - 09:11 UTC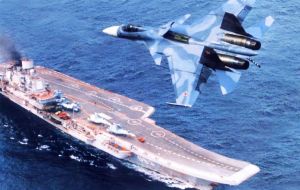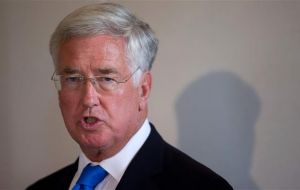 Russia has withdrawn a request to refuel its warships in Ceuta, after Spain became the subject of international criticism, from the NATO secretary general among others. Spain had recently signed statements accusing Russia of war crimes in Syria, where it's believed the ships are headed.
Eight Russian ships, led by aircraft carrier Admiral Kudnetsov, passed through the Strait of Gibraltar on Wednesday after sailing through the English Channel this week.
UK Defense Minister, Michael Fallon, said it would be on "Madrid's conscience" if the Russian fleet was used to launch airstrikes. However, Prime Minister Theresa May has refused to condemn Spain for allowing the ships to dock.
At least 60 Russian military ships are believed to have stopped at Ceuta since 2010; Spain has now been reviewing its policy, having previously defended it.
The first group comprised of Russian escort and support ships, sailed past the Rock at around 4am. The second group, comprised of the battle cruiser Pyotr Velikiy (Peter the Great) and the aircraft carrier Admiral Kuznetsov sailed past Gibraltar several hours later, just before sunrise.
The fact that they sailed through at night suggests the Russian Navy did not wish to make a display of its passage through the narrow Strait.
At talks between Nato defence ministers in Brussels this week, British Defence Secretary Sir Michael Fallon said Britain "would be extremely concerned if a Nato member should consider assisting a Russian carrier group that might end up bombing Syria".
Nato secretary-general Jens Stoltenberg said the deployment raised concerns that air assaults could increase in Syria, notably in the besieged city of Aleppo.