CFK says she is a victim of political harassment - equals her case to Lula's
Tuesday, November 1st 2016 - 07:30 UTC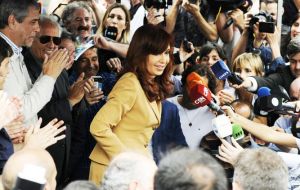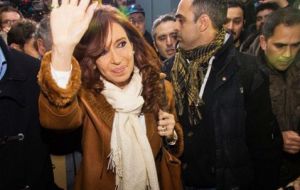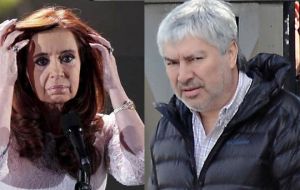 The former Argentine president said she is no friends with entrepreneur Lazaro Baez, who was awarded around 80 percent of all public works in the province of Santa Cruz when governed by her late husband and eventually president Nestor Kirchner.
Former Argentine president Cristina Fernandez said there was "a formidable maneuver of political persecution" against her, after testifying in writing before Judge Julian Ercolini on Monday for alleged corruption in the awarding of public works, and accused her successor Mauricio Macri of "trying to hide the current economic and social disaster" though judicial scandal.
The former president questioned the prosecutors and the judge to suspect that she and her late husband and predecessor Nestor Kirchner (2003-2007) created a "conspiracy" to benefit entrepreneur Lazaro Baez, who is close to both, something she called "egregious nonsense."
Fernandez claimed that this judicial process "is a formidable maneuver of political persecution, harassment, which is not original" and recalled that former President Lula da Silva in Brazil had undergone a similar suffering. "We represent the processes of inclusion, we have built millions of Argentines," she said.
She branded the government of Macri a "terrorist conspiracy" by striking terror with its economic measures and accused him of seeking "proscription of a political movement" in reference to the current Peronist. Prosecutors Gerardo Pollicita and Juan Mahiques recently expanded the indictment against the former president from new evidence on the alleged discretionary award of works to Austral Construcciones, the company ran by Báez in the southern province of Santa Cruz, governed by Kirchner before becoming President.
The prosecutors denounced a criminal operative "through the Executive Branch and the bodies of state administration, oriented to the theft of public funds through functional structure was mounted [via] the discretionary allocation of almost 80% of road projects awarded in the province of Santa Cruz, representing contracting State in favor of Lázaro Báez by more than 16,000 million pesos (just over 1,000 million dollars)."
Several of these works, such as roads, were never completed. Fernandez said she is in favor of a judicial inquiry of "all public works", including one which would have benefited Angelo Calcaterra, cousin of the current Argentine president. Meanwhile, Macri said that "Argentines want no more impunity" and that the government let justice act independently.
Prosecutors have charged other former officials of the Kirchner administration. And the magistrate now has 10 days to decide Fernandez' fate.
Former President Cristina Kirchner confirmed that she filed a brief requesting the nullification of the case of alleged fraud in the award of public works in Santa Cruz and said it is "is a formidable maneuver of political persecution" the charge of integrating a conspiracy with former President Nestor Kirchner and officials of the two governments, while she said she is no friend of Lázaro Báez, arrested for handling money in public works.
Fernandez said it is a "maneuver by the current government to cover the economic and social disaster that has Argentina but can not cover the sun with your hands," adding that "this government would be a terrorist organization: terror when receiving the gas bill, they go to the supermarket ... "
Prosecutors maintain Cristina had devised a criminal network to get rich through illegal methods with the award of public works, upon arrival in the national government of the late Nestor Kirchner first and it later. To do so, they argued, Báez resigned his post at the Bank of Santa Cruz, founded the company "Austral Construcciones" then added other, and began to win bids for national public works in Santa Cruz, reaching 80 percent of them, according to a National Roads Authority report.
The former President was nearly three hours before the judge Ercolini: filed a notice seeking invalidation of the case and did not answer questions.
Faced with thousands of militants who accompanied and a security drill which included special fencing and even drones, Cristina explained that "since 1994 the heads of cabinet are running the budget of the Nation that" throughout the country much public work was done "during her tenure and concluded that everything is" a maneuver of political persecution "and" a way to cover the social and economic disaster that Argentina is going through "by the policies implemented by Mauricio Macri. "You can not cover the sun with your hand," she said.