Insignia marks the official beginning of the cruise season for Punta Arenas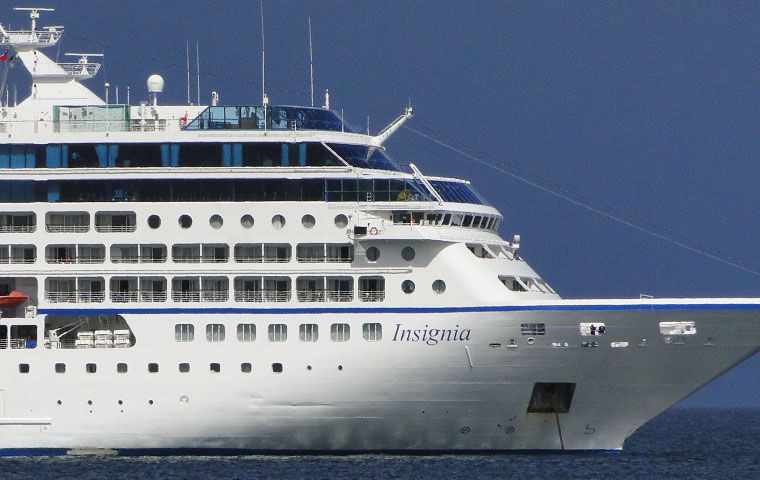 With the arrival this Monday of M/V Insignia to Punta Arenas in the extreme south of Chile, and capital of the Magallanes region has officially declared opened the 2016/17 cruise season. It is estimated that 102.000 tourists will be visiting the region, although the number of vessel calls will drop drastically from 121 to 86.
The Chilean Migration Office in Punta Arenas supplied the numbers and pointed out that to help foreign tourists and potential visitors planning to land, migration officers will board the cruise vessel at the previous call and thus facilitate documents and paperwork.
Deputy Chief of the Magallanes migration office Eduardo Acevedo said the system, basically to help tourists arriving in Magallanes region has been extended to the frontier passes, which as of first November will remain open 24 hours, including the summer reopening of the Bellavista crossing in Tierra del Fuego, which most of the year remains closed.
Acevedo also called on locals planning to travel overseas or crossing to Argentina to stop by at the International Police office to check they have all documents in order and thus avoid any disagreeable surprises at the moment of leaving Magallanes
Insignia arrived with 684 passengers and a crew of 400. The vessel has undergone a multimillion-dollar transformation to create a virtually new ship. She features four unique, open-seating restaurants, a world-class fitness center and spa, eight lounges and bars, a casino and 342 lavish suites and luxurious staterooms, nearly 70% of which feature private verandas.