Esteche: if a judge orders CFK's arrest he might end up dead
Tuesday, November 8th 2016 - 06:38 UTC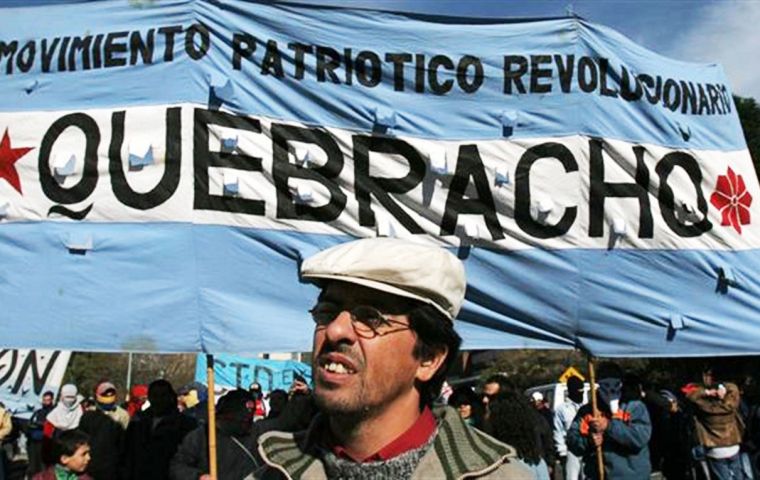 La Plata Prosecutor Marcelo Romero Monday filed charges Monday against Fernando Esteche for public intimidation, following the Quebracho picket grouping leader's radio statement where he warned that if any judge should order the arrest of former President Cristina Fernandez he could "end up dead".
Romero required that psychological and psychiatric avaluations are carried out on Esteche in order to determine whether he is fit to stand trial. According to Romero, Esteche's words "go way beyond simple freedom of speech, much more so in the case of a university professor and a political leader who has students and followers," he explained.
Esteche said it would be unbearable for the political system to see CFK arrested. "If such a thing ever occured to any judge to rule, he would be instantly removed from the gameboard, be it by destitution, removal from the case, declaration of incompetence or, perhaps, ends up dead," he said, adding that "anything could happen."
According to the prosecutor, Esteche is "well aware of the role played by the mass media" and of the scope of his words thereon, having tried to bring fear to any magistrate,district attorney and their nearest and dearest of those carrying out an investigation involving the former president and her aides.
Esteche "shall not be able to say he didn't know, given his position as a professor within the School of Journalism at the Universidad Nacional de La Plata," explained Romero. "He has just used the right words to intimidate without a direct threat and has manipulated his speech to send out a mafia-style message which is not to be tolerated under the rule of law," he added.
If found guilty, Esteche could be sentenced to between 2 and 6 years in jail. Esteche has already been behind bars between 2013 and 2015 for damages against party property of former Neuquén Governor Jorge Sobisch during an anti IMF demostration. His name is also to be find on the late AMIA case special prosecutor Alberto Nisman's file against CFK for their alleged illegal negotiations with Iran.
Esteche went on to say that "Comodoro Py (the street where most federal courts are in Buenos Aires) is too far from the knowledge of justice." He also pointed out that "the judicial corporation, together with the media corporation and the legislative corporation add up to a an obscure and perverse movement which has been sliding the democrating systems into a straitjacket at will."
The Quebracho leader explained he is "no way near" Cristina Fernandez's entourage, but "political gestures would seem to be indicating the construction of a wide political front where her candidacy would be a winning option.