Cristina Fernandez furious with Macri for the accusations against her mother
Wednesday, November 16th 2016 - 10:01 UTC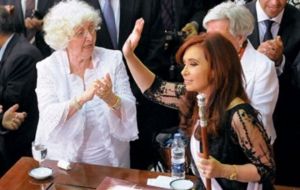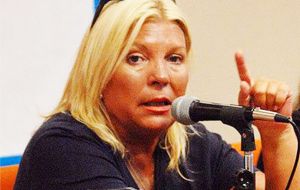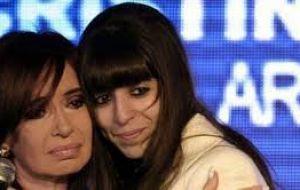 Argentine ex president Cristina Fernandez strongly defended her mother Ofelia Wilhelm who has been accused by the federal justice of fraud and pointed to president Mauricio Macri for the official investigation warning that "no matter how many cases are dumped on me, the fact is people don't make enough money to reach the end of the month".
"What are you trying to make up?, Are you trying to make people believe that things are bad and will get worse ...because of my mom? Don't you think you are going too far, I thought that with me and my daughter (Florencia) it was enoguh, or are things so bad for you that you need to begin persecuting, together with the media group Clarin, an old lady that never leaves her home? No, Macri, Argentina's problem continues to be the same: you people", underlined the ex president.
In an open letter published in her Facebook account under the heading, "No it's not my Mom, it's your Dad and you also", the ex leader defended her mother who has been accused by a federal court for an alleged scam against the State to skim 61 million Pesos (US$ 4.5 million) with contracts between the Argentine Post Office and a worker's cooperative El Aldabón Limitada.
"Macri, my Mom is 87 and for over fifty years has been living with my sister in the same house, in the same neighborhood, which is her only asset", wrote Cristina Fernandez.
The former president who is alos facing several cases involving corruption allegations added, "She was the chair of her union for over thirty years, and never had a single trade union leave day. She went every single day to work, strange, no?"
And then added, "my Mom lives off her pension and the pension of my late father".
At the same time Cristina Fernandez lashed at President Macri and his father, businessman Franco Macri, for "having the State pick up the debts of your companies while the genocide dictatorship disappeared thousands of Argentines".
The former president's furious reaction comes in the context of her several court cases problems, the first of whcih is expected in the coming weeks, with an oral and public trial, referred to the dollar futures market.
The mother of the ex president, Ms Wilhelm was accused of fraud in detriment of the Argentine State by lawmaker Elisa Carrió, a political ally of president Macri, and the complaint was presented at Federal Court 12.
A second complaint by solicitor Santiago Dupuy de Lome was presented at the Federal Court 11, of Judge Claudio Bonadío, who has the dollar futures case involving Cristina Fernandez.
El Aldabon cooperative was started by the Land and real estate tax office employees union, Aeri, to which belonged Ms Wilhelm, and whose chief was Fotios Cunturis, who was also head of the State Unions Federation from the province of Buenos Aires.