Latin American exports downward trend is greater than in the rest of the world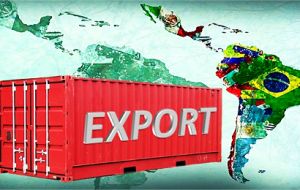 Following two years in a downward trend the value of Latin American exports fell 14.8% in 2015, and 8.5% in the first seven months of 2016, according to the Trade and Integration Monitor 2016 of the Inter-American Development Bank. Services exports, which had partially compensated the fall in merchandise trade in previous years, contracted 2.4% in 2015, the first time since the 2009 financial crisis.
The report shows that the export slowdown in Latin America and the Caribbean, which is even more intense than in the rest of the world, resulted from significant price reductions, particularly of commodities and oil, coupled with the most severe recession in recent decades.
The contraction in the value of regional exports in 2015 was due to declines in the external sales of virtually all countries and sub-regions, although with different intensities. South American and Caribbean countries were the most affected, both registering reductions of 22.8%, while the rate for Mesoamerica was 4.2%, driven by a fall of 5% in Central America and of 4.1% in Mexico.
According to Paolo Giordano, Principal Economist of the IDB Integration and Trade Sector and the report's coordinator, "the intensity and the duration of the export decline indicate that global trade has entered a new normal characterized by low growth. This, in turn, will require a change of gear in the policies that support the international insertion of Latin American and Caribbean countries."
The study analyzes how deteriorations in the terms of trade and fluctuations in the already weak growth of trade volumes have depressed the value of regional exports, and generated deficits in the current account of the balance of payments of most countries. It also examines the regional trade outlook in the short and long terms, taking into account the impact of recent exchange rate realignments and of structural transformations that have affected the world trading system in the last two decades.
The long-term analysis reveals that the region has become increasingly specialized in commodities, while in the short-term the current configuration of real exchange rates is unfavorable to export growth through the intra-regional market, which is more intensive in manufactures and, therefore, more conducive to diversification.
The report was presented at an event organized by the IDB Integration and Trade Sector and the Institute for the Integration of Latin America and the Caribbean (INTAL) in Buenos Aires, Argentina. Making use of trade indicators available through INTrade, the Information System on Trade and Integration of the IDB, the document stresses the need to prioritize policies that promote the diversification of exports.
The Trade and Integration Monitor 2016 provides a unique Latin American perspective to the debate on the global trade slowdown, arguing that policies aimed at facilitating the region's insertion into world markets must be radically recast in order to adapt to the downshift of globalization.