Southern Cone countries reach border control accords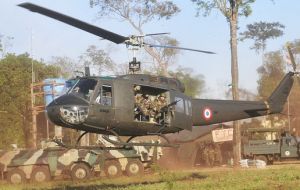 Argentina, Bolivia, Brazil, Chile, Paraguay and Uruguay, sign in Brasilia documents providing for the joint work by security agencies to fight drug trafficking, smuggling of goods and people and money laundering.
The border became tantamount to crime today, when it should be a factor of integration and development," said Brazilian Foreign Minister José Serra, after the meeting and all delegates underlined the need to strengthen existing mechanisms and protocols, many of which have not been effectively implemented.
An agreement between Brazil and Paraguay, which called for help to the South American giant to improve its intelligence service, and another pact between the police forces of Brazil and Bolivia, who share some 3,423 km of border, were announced.
"What is lacking in the fight against drug trafficking, trafficking in arms, people, smuggling, from a transnational point of view, is the operational aspect," Brazilian Justice Minister Alexandre de Moraes told reporters.
At the opening of the meeting, Brazilian President Michel Temer called for "permanent" security operations on the borders of the Southern Cone countries, bearing in mind that Brazil has almost 17,000 km of land border, according to official data. "In recent decades, threats to public security have become increasingly complex and increasingly beyond borders," Temer said.
Last week, a vast operation of Brazilian and Paraguayan police disarmed a drug gang and seized some 10 tons of marijuana, as well as weapons and luxury vehicles. The so-called Agata border operation, carried out since 2011 sporadically and previously announced by members of the Brazilian Armed Forces, will become "increasingly unpredictable," it was announced.
Temer publicly signed a decree that establishes a new Integrated Border Protection Program (Propif), with the goal to articulate the actions of public security, intelligence, customs control and the Armed Forces of the federal Government with the authorities of each state (province), as well as with those of neighboring countries.