Ex Rio governor and evangelical pastor arrested on suspicion of vote-rigging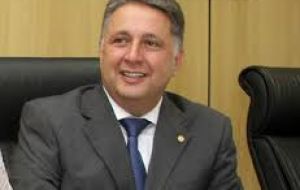 Anthony Garotinho, a former governor of Rio de Janeiro state and presidential hopeful, was arrested Wednesday on suspicion of attempted vote-rigging in last month's municipal elections, Brazil's Federal Police said.
Garotinho, 56, was detained at his home under a warrant issued by Judge Glaucenir Silva de Oliveira, who is overseeing an investigation of alleged irregularities in the October balloting.
The 2002 presidential candidate currently serves as municipal secretary in Campos, Rio de Janeiro, where he began his political career decades ago as the city's mayor.
Garotinho, an evangelical pastor and radio personality, governed Rio state from 1992 to 2002, when he made a run for president and finished third in the election that brought Lula da Silva to power.
Federal Police say they suspect Garotinho of involvement in a scheme that included vote-buying on behalf of candidates for the municipal councils in Campos and other cities in the state