UK defence and security relationship underlined at Chile´s Exponaval 2016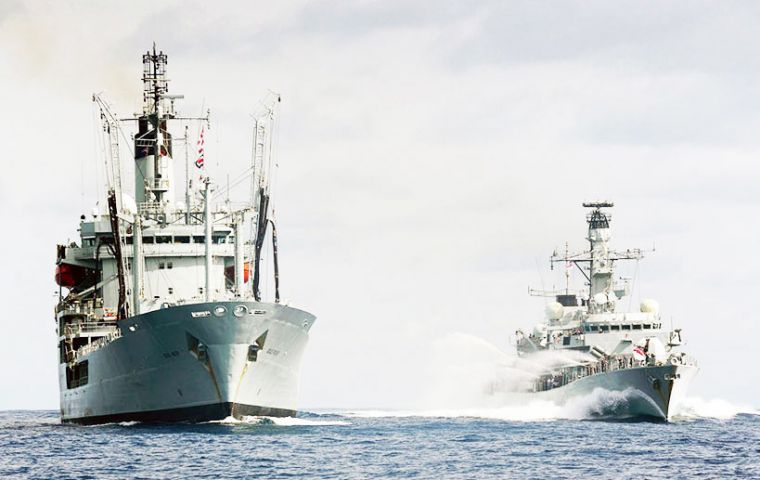 Innovation, partnership and technology transfer are the main themes as the UK is showing a strong commitment to the UK/Chilean defence relationship by sending two Royal Navy ships to Exponaval 2016 in Valparaiso, Chile. The Type 23 Frigate HMS Portland is making its first visit to Chile along with Royal Fleet Auxiliary RFA Gold Rover.
The Fleet Commander Vice Admiral Ben Key is also attending. This will be an opportune time for both navies to discuss future cooperation and acknowledge the important historic and enduring links between the two Services.
At Exponaval UK companies will be showcasing a range of cutting edge technologies in the defence, security and disaster relief sectors. They are also looking for opportunities for industrial partnerships and joint ventures. The UK is also keen to share its experience in managing large defence programmes. It has also recently managed the security for the Rugby World Cup. In both sectors the UK is happy to share its experiences and lessons learnt. In addition the UK has extensive experience in cyber security and is looking to work with both the Chilean government and companies in the sector.
Vice Admiral Ben Key, Fleet Commander recalled that the Royal Navy played a significant part in the establishment of Chilean independence, and "our two navies have been closely linked ever since. Chile remains an important strategic partner to the UK and our aim is to deepen and strengthen our defence and security relationship. We welcome every opportunity to discuss challenges and issues faced by both our armed forces and security sectors. As our two navies modernise, I am keen we continue to build on our heritage, sharing of ideas, knowledge and technology, and continue to strengthen our ties".
Likewise Alexis Hammer Regional Director for South America in the Department of Trade's Defence and Security Organisation said "we are delighted to be back again at Exponaval supporting the UK's capabilities in the marine, defence and security sector. Our presence demonstrates HMG's on-going commitment to Chile. We hope that at this exhibition we can identify areas where UK companies can work with their Chilean opposite numbers to mutual benefit. I am very keen to encourage more industrial partnerships in both the defence and security sectors and hope that Exponaval can encourage a climate of business to business engagements".
UK companies exhibiting on the Department of Trade's Defence and Security Organisation's stand include: Leafield, SEA, MOD Disposals Agency and Ultra Electronics. Other UK companies exhibiting include BAE Systems, MBDA, Qinetiq, Kelvin Hughes, Lloyds Register and Thales.