Brazilian sources say Venezuela's suspension from Mercosur to be announced Friday
Friday, December 2nd 2016 - 10:43 UTC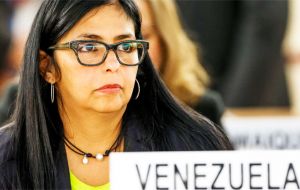 Nicolas Maduro's Venezuela has been suspended from the Mercosur regional trade bloc for failing to meet its membership requirements, a Brazilian government source revealed Thursday. And the official announcement is to be made Friday, which could not be corroborated in Buenos Aires' diplomatic circles.
The sources added that Argentina, Paraguay, Uruguay and Brazil had come to the conclusion that Maduro did not respect the economic, immigration and human rights treaties that equally apply to each member nation and until he does, Venezuela must be set aside.
"Venezuela has not adopted all the rules of membership and the treaties it promised," said one of those officials who spooke on condition of anonymity. "Everything indicates that Venezuela will be suspended from December," the sources added.
However, a source from the Argentine government later on Thursday hinted that the final decision was to be made at a meeting of foreign ministers scheduled for December 14 in Montevideo.
Venezuela's Foreign Minister Delcy Rodriguez said defiantly this week that her country's socialist government will not leave Mercosur and denounced what she called a campaign by the right-wing governments of Brazil, Argentina and Paraguay to oust Caracas from the group. Rodríguez said her country is suffering "aggressions and harassment against its presidency," as she called for the activation of Mercosur's dispute resolution procedures.
"This controversy includes the exorbitant ignorance of their respective governments by the pro-Venezuelan presidency of the Mercosur that was fully in their hands," posted Rodriguez in her Twitter account.
The suspension will not lead to sanctions against Venezuela, but will separate its government from the bloc's meetings and negotiations, officials said. The country will find itself in the same situation as Bolivia, which has no voice or vote in the bloc.
A suspension would further isolate Venezuela amid its struggle with food shortages and social unrest as its oil-dependent economy collapses.
The Brazilian Foreign Ministry was not immediately available for comment. Brazilian businessmen have complained that the presence of Venezuela, which joined the bloc in 2012, delayed key business and regulatory decisions.