Two Chinese large-scale jiggers heading for the SW Atlantic, announces Pingtan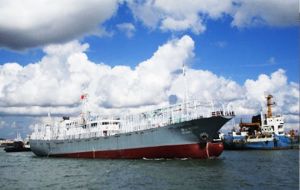 China's Pingtan Marine has announced the launch of two new squid jiggers, bound for the southwest Atlantic and southeast Pacific oceans. The two newly-completed vessels should reach fishing grounds by late December, and sales of squid catches are then expected to begin in the first quarter of 2017.
Pingtan currently operates 135 fishing vessels, 12 of which are operating in the Bay of Bengal in India, along with 13 vessels operating in Indo-Pacific Waters. With the two jiggers, the total 27 fishing vessels will make the company's production capacity recover to approximately 23%.
The jiggers should increase fishing efficiency and accuracy, Pingtan said. Squid jigging is a technique that uses a lead sinker with a hook molded into it to attract squid.
In accordance with the company's previous results of 2014, which is the last full financial year prior to the Indonesian government moratorium since 2015, each of its fishing vessels can generate annual revenue of approximately US$3 million with annual net income of approximately US$800,000 to US$1m.
"The two large-scale squid jigging vessels are twice the average gross tonnage of our other fishing vessels, and we are excited to launch them into a new fishing territory, the international waters of Southwest Atlantic and Southeast Pacific Oceans," said Xinrong Zhuo, chairman and CEO of Pingtan.
"Since mid-2015, market squid prices started to climb and, in 2016, China's bulk purchase prices have more than doubled. We expect that the two squid vessels will diversify our product mix by providing different type of squid products from the regions and accelerate the expansion of our fishing territories worldwide, as well as allowing us to remain competitive as we may rapidly adjust our strategy in light of market changes".
The high prices for squid around the world, caused by lower catches due to El Niño, are hitting China's squid market.
According to Cui He, the executive vice president of China Aquatic Products Processing and Marketing Alliance, catches of China's overseas fishing fleet have nose-dived in 2016. In 2014, China's imports of squid hit a record of over 798,000 metric tons, but dropped 30% in 2015. From January-June in 2016, imports reached 137,000t, y 21% of the 2015 total, according to a report presented at the Conxemar trade show.