Incarcerated ex Peruvian President Alberto Fujimori hospitalized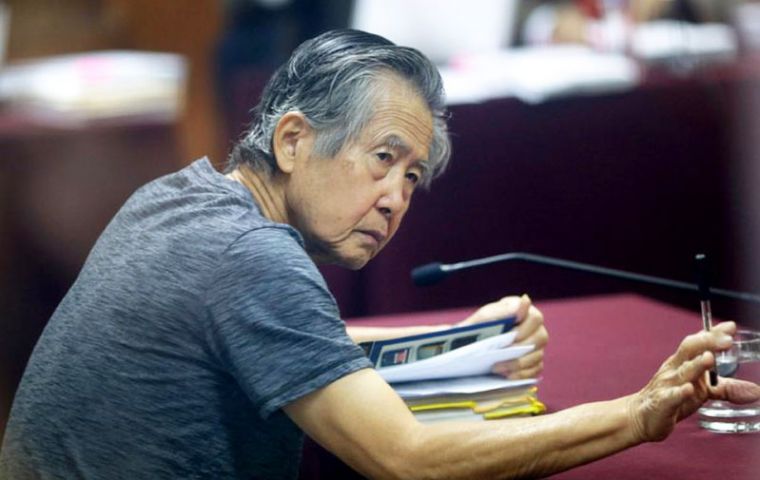 Former Peruvian President Alberto Fujimori was hospitalized over concerns he may be at risk of cerebral ischemia, a reduced blood supply to the brain, it was reported Monday by authorities of the detention facilities where he is serving a sentence for human rights violations.
Fujimori, 78, was transferred to a clinic over concerns he may be at risk of cerebral ischemia -- a reduced blood supply to the brain which can lead to a stroke. "He has been having a lot of dizzy spells which stop him standing up," his doctor Alejandro Aguinaga said on TV. "Since he has had two small cases of ischemia in the past, the decision was taken to transfer him to hospital so he can be examined by a neurologist," the physician added
The official Twitter account for Fujimori run by his supporters said he was at "risk of cerebral ischemia" nd had also difficulty moving his right shoulder. Aguinaga said tests would determine whether Fujimori would remain in hospital or return to the Diroes police base where he is imprisoned.
Fujimori is remembered for ruling Peru with a populist style and authoritarian grip from 1990 to 2000. He was convicted in 2009 for his role in killings by a death squad targeting supposed guerrillas in the 1990s. He has also been convicted of embezzlement and bribery, but his family remains a force in Peruvian politics, his daughter Keiko narrowly losing the last presidential election in June to center-right economist Pedro Pablo Kuczynski.
Alberto Fujimori has been in and out of hospital in recent months. The last time was in September due to gastric problems and high blood pressure. On that occasion he also had pain in his tongue, on which he has had five operations to treat a cancerous growth.