South Georgia coin to celebrate centenary of Endurance Expedition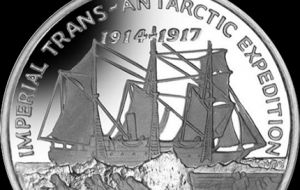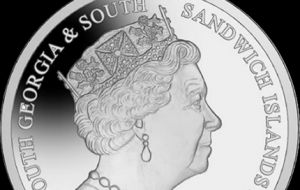 The government and treasury of South Georgia and the South Sandwich Islands issued a new Crown coin that pays tribute to and celebrates the centenary anniversary of the Imperial Trans-Antarctic Expedition, also known as the Endurance Expedition. The expedition was named after its ship and is considered by some to be the last major expedition of the Heroic Age of Antarctic Exploration.
By 1914 both, poles had been reached, so Ernest Shackleton (1874–1922)—the famed polar explorer remembered for leading three British expeditions to the Antarctic during his career—set his sights on being the first to traverse Antarctica and achieved this goal when he arrived at South Georgia on 5 November 1914. After a month-long stop at Grytviken whaling station, the expedition sailed into the Weddell Sea with the aim of crossing the Antarctic continent to the Ross Sea, where they would be met by the Ross Sea party aboard the Aurora.
Eighteen months later Shackleton returned to South Georgia, albeit in very different circumstances. The Endurance had been lost in the ice and her 28-man complement had spent months in makeshift camps before they took to the lifeboats to reach Elephant Island, an ice-covered mountainous island off the coast of Antarctica in the outer reaches of the South Shetland Islands. It was from there that Shackleton and five companions made their 1,300-kilometer boat journey aboard the James Caird to King Haakon Bay, South Georgia. After a short period of recuperation, Shackleton, Tom Crean, and Frank Worsley crossed South Georgia on foot to Stromness whaling station, where they arrived on May 20. Shackleton then began his ultimately successful efforts to rescue his men on Elephant Island. After four attempts in different vessels, Shackleton was able to rescue the men waiting on Elephant Island; they were brought home aboard the Chilean steamer Yelcho without loss of life. Shackleton returned once again to the Antarctic
In 1921 with the Shackleton-Rowett Expedition, which, as fate would have it, would be his last ever. He died of a heart attack while his ship was moored in South Georgia. At his wife's request he was buried there. His grave is in the churchyard in Grytviken, South Georgia, and even today visitors to this remote island often stop there.