Brazil and Argentina agree to open Mercosur to the world and expand trade horizons
Friday, December 9th 2016 - 10:01 UTC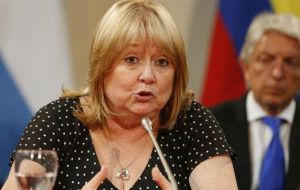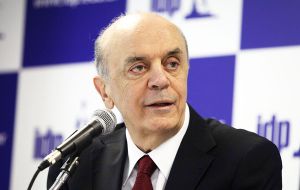 Brazil and Argentina foreign ministers agreed on Thursday in Brasilia that Mercosur must open to the world and expand its trade horizons, but it will have to be done without Venezuela which has been currently "ceased" from the block. Jose Serra and Susana Malcorra coincided that Mercosur must speed the trade agreement with the European Union taking advantage of the fact US elected-president Donald Trump has pledged to limit such treaties.
"The Venezuela case is not a suspension, it´s a cancelling of its participation in Mercosur", as was agreed by Argentina, Brazil, Paraguay and Uruguay since "the country was given four years to complete the inclusion of Mercosur rules and rulings and is still short of the agreed goal", said Ms Malcorra.
The Argentine minister said Mercosur was hopeful that Venezuela adapts as soon as possible to the block's rules and rulings, and once this has been corroborated it will enjoy full membership again. "You can't be a member of a club with full rights without complying with obligations", insisted Malcorra.
Even when a Mercosur priority is reaching a trade agreement with the EU, "we plan to explore other possibilities with developing markets, since we must open to the world".
Since the arrival of Trump will most possibly interrupt negotiations between the US and EU, "we must take advantage and move fast", insisted the Argentine minister, who revealed that next week Mercosur ministers will meet in Buenos Aires to decide on a road map for the first half of 2017, when Argentina will be holding the rotating chair of the group.
Minister Serra announced the creation of a bi-national committee to address barriers limiting Argentina/Brazil bilateral trade, looking for alternatives and later sharing the advances with the other members of Mercosur.
Malcorra said that it was of special interest of both countries to develop the fluvial potential of the so called "Mercosur waterway" which includes the basins of two mighty rivers, Parana and Paraguay which communicate all four founding members of the group and even landlocked Bolivia.
Making inland waterways into shipping lanes and connecting canals between the Parana and Paraguay rivers could help fluvial trade to boost from 17m tons to over 50m in less than a decade, "but obviously this needs heavy investments", admitted Malcorra.
In her visit to Brasilia, Malcorra met with president Michel Temer and went over the "whole of the bilateral agenda" and coincided in propping Mercosur, but "a Mercosur opened to the world". It was also agreed that president Mauricio Macri could make an official visit to Brazil next February.