Argentine lemons re-entry spark protests from California citrus growers
Friday, December 23rd 2016 - 02:06 UTC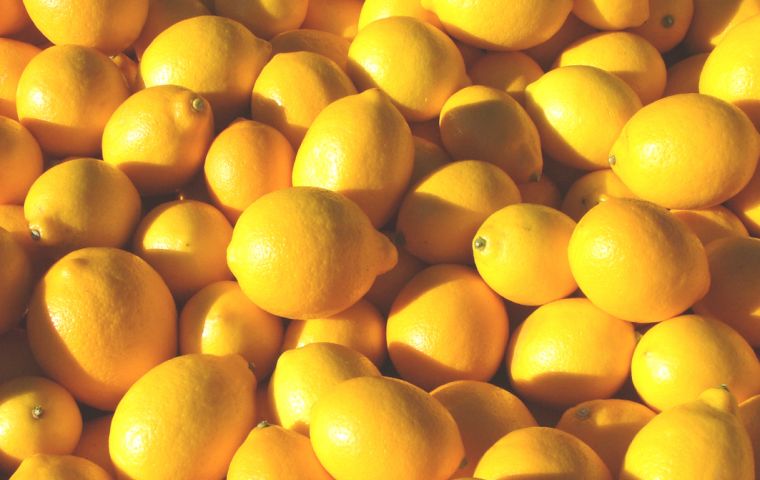 Sparking protest from California citrus leaders, the U.S. Department of Agriculture has ruled that fresh lemons from Argentina will be allowed to be imported into the U.S. The rule is the result of ten years of study on pest risks associated with Argentina lemons, according to the USDA. A proposal to allow Argentina lemon imports was published in May this year and received more than 400 comments.
The process included a comprehensive pest risk assessment that was amended several times to account for new scientific information and address public comments, according to the USDA. The USDA evaluation included visits to Argentina in 2007, 2015, and in September 2016 to observe production areas, packing practices and trace back abilities, according to the agency.
"(The Animal and Plant Health Inspection Service) has determined lemons produced in northwest Argentina can be safely imported into the continental U.S. utilizing a systems approach," the USDA said in a news release.
The USDA projects that Argentina may export between 15,000 and 20,000 metric tons of fresh lemons to the U.S. annually, or about 4% of the average total U.S. lemon production (2008 to 2014) of 535,244 metric tons.
Most Argentina lemons are expected to be shipped to the U.S. between April 1 and August 31, according to the USDA. Based on imports of 18,000 metric tons, the USDA estimates that the effect of Argentina lemon exports to the U.S. will be a lemon price reduction of about 4%. Consumer welfare gains of US$22.4 million will outweigh producer welfare losses of US$19.9 million, according to the USDA.
"As a lemon producer this callous disregard for our family farmer-based industry is shocking inasmuch 'our welfare losses' as described in the rule just don't count," Richard Pidduck, chair for the U.S. Citrus Science Council, said in a California Citrus Mutual news release. Bringing product into the U.S. from pest- and/or disease-infected areas creates vulnerability for the nation's largest fresh citrus-producing state, according to the release.
USDA said the systems approach required for Argentina lemon exporters will require registration and monitoring of production places and packinghouses, pest-free places of production, and grove sanitation, monitoring and pest control practices. In addition, the standards call for fruit disinfection and treatment with fungicide, lot identification and traceability to the place of production and inspection for quarantine pests by Argentine plant health officials.

Further requirements include that lemons from northwest Argentina would have to be harvested green within a certain time period, or treated for Mediterranean fruit fly in accordance with an approved treatment schedule.