Air link to Falklands requested by an Argentine charter airline from Neuquén
Wednesday, December 28th 2016 - 06:54 UTC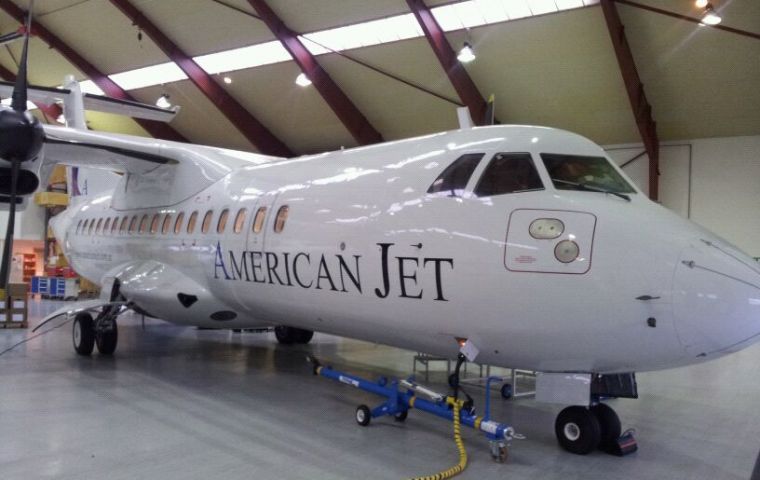 A private charter airline planning to operate as a low cost option, based in Neuquén and San Fernando, Buenos Aires has requested the Argentine government for domestic and regional routes including one to the Falkland Islands.
American Jet asked the Administration of National Civil Aviation, ANAC, for thirteen domestic and seven international routes during an open hearing held in Buenos Aires where low cost airlines requested domestic and international routes, hoping to begin flying next year based on President Mauricio Macrí's intention of implementing an open skies policy to bring fare costs down.
American Jet has recently started commercial flights four times a week from Neuquén to Temuco and Chile with a twenty seat aircraft. The company is described as totally Argentine with thirty years experience, which took off as an air taxi and later corporate charter flights mainly for oil and mining companies in Neuquén and Tucuman.
Other petitioners during the hearing underlined the potential of Argentina to expand air passenger and freight operations in a competitive market which would help lower fares and in a decade "triple the number of people who will use air transport".
Among those companies was FB Lineas Aereas, a low cost airline which presented the "Fly-Bondi" project, demanding 56 domestic routes, 43 in Latin America promising in five years "to transport eight million passengers and incorporate 27 aircraft".
"Low cost flights opportunities in Argentina are incredible. By 2016 we promise to triple the air passenger market, since in Argentina less than 10% of the population use air transport", according to the "Fly-Bondi" presentation.
Avian Lineas Areas, an affiliate of Colombia's Avianca requested domestic connections from Buenos Aires to Santa Fe, Rosario, Viedma, Puerto Madryn, San Luis, Río IV, Bahía Blanca, Tandil and Concordia, plus routes to Montevideo and Porto Alegre, south of Brazil. The company also said that Argentina is one of Latin America's countries with less domestic flights options and requested authorization to begin operating next 15 March increasing the number of flights from 35 to 149.
Andes Lineas Aereas said it wanted to increase operations to include Santiago de Chile, Sao Paulo and Lima from Aeroparque in Buenos Aires. Another petitioner Alas del Sur also requested a number of domestic routes operating from Cordoba.