Argentine congress opens Malvinas Observatory; Malcorra will not be attending
Wednesday, December 28th 2016 - 06:51 UTC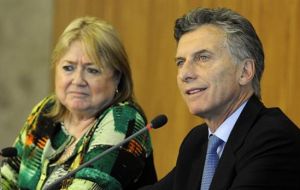 Argentine foreign minister Susana Malcorra will not be going this Wednesday to the Lower House where she was first summoned, and later invited for the formal constitution and opening of the Malvinas Observatory. Lawmaker Elisa Carrió, a close ally of president Mauricio Macri, and chair of the Lower House Foreign Affairs committee originally summoned the minister.
In effect members of the opposition had requested that Carrió summoned Malcorra and her deputy Pedro Villagra Delgado to inform on the latest understandings of Argentina with the United Kingdom, particularly discussions for additional flights from the Falklands to the South American continent and lifting impediments to trade and maritime contacts with the Islands.
However lawmaker Carrió managed to downplay the opposition request arguing that the event should be dedicated to the inauguration of the Malvinas Observatory, and thus the summons turned into an invitation.
Nevertheless Malcorra announced she would not be attending and will be represented by her deputy, Villagra Delgado at the ceremony.
Apparently Carrió and Malcorra don't have a good chemistry and last time the Falklands issue was discussed in the foreign affairs committee, ex Deputy minister Carlos Foradori received a bashing from lawmakers, which together with an issue related to Qatar, forced his replacement by Villagra Delgado.
The Malvinas Observatory to be inaugurated on Wednesday is made up of seven lawmakers and seven academics with the purpose of studying, debating, collecting information and promoting all kind of academic activities related to the South Atlantic Islands dispute. Carrió a chair of the committee will be the first president of the Observatory.
However opposition lawmaker Guillermo Carmona, who requested Malcorra meets with the foreign affairs committee, recalled that lifting sanctions related to the Falklands dispute must be addressed by Congress, and anticipated he would continue with the issue.