Argentina GDP contracts 3.8% in third quarter: sharp declines in manufacturing and construction
Saturday, December 31st 2016 - 16:25 UTC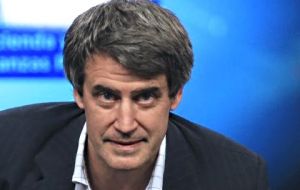 Argentina's Gross Domestic Product (GDP) fell 3.8% at the end of the third quarter of the year, with sharp declines in manufacturing, construction and consumption, the INDEC official statistics bureau reported.
A decline of 0.2% was seen from July to September for the second quarter (April-June), accumulating a negative mark of 2.4% so far this year, the agency said.
INDEC also reported that Gross Fixed Capital Formation, understood as a way to measure investments, fell 8.3% in a year-on-year comparison, as industrial activity dropped 8% regarding the third.
The agency reported that during the third quarter of the year, industrial activity fell by 8% compared to the same period of 2015, while construction fell by 12.9% and commerce by 5%.
The Finance Ministry has said that the year will end with an economic downturn of 2.4%, a goal labeled as optimistic by private pundits.
Outgoing Finance Minister Alfonso Prat-Gay foresees a rise of 3.5% next year, boosted by the agricultural sector, exports and public works.
The Argentine government has said on a number of occasions that the growth rate of 3.5% is "real" although "for some it is conservative." From the private sector, all estimates are cautiously positive although they range from almost zero to a 5% increase.