Argentina prepared to share South Atlantic fisheries scientific data, says Malcorra
Thursday, January 12th 2017 - 06:26 UTC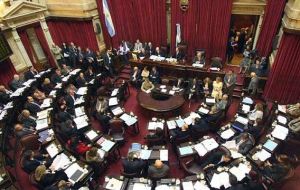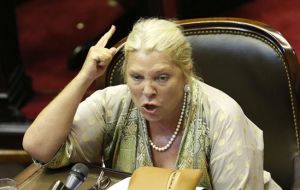 discuss hydrocarbon and fisheries issues in the South Atlantic with the UK, following on the road map agreed last September in the joint statement. These issues were described as "fundamental" and will be discussed in the Argentine congress, but others such as trade and navigation, do not need to be consulted with the legislative branch.
Malcorra made the statements during the launching of the 2016/17 Antarctic summer campaign and insisted Argentina will continue to strive for "its rights and interests" in the South Atlantic and advanced that although some of the more sensitive issues related to the Falklands/Malvinas have yet to be addressed, she did not discard "joint fisheries scientific surveying", particularly referred to migrant species and which are "submitted to a standing depredation".
Allegedly and according to Malcorra the Falklands are very much interested in collecting this kind of shared scientific information which is vital for its annual licensing.
Malcorra also took advantage to mention that all those agreements which need congressional ratification will be sent to the Legislative, while the others, will be handed with Executive independence. The statement was the reply to a strong warning from the Lower House foreign affairs committee, chaired by Elisa Carrió, who allied with opposition members said that if the oil and fisheries agreements are not sent for discussion to Congress, Malcorra and government members involved will be submitted to political impeachment.
The foreign minister underlined that Ms Carrió, an ally of president Macri, has no reason to propose such extreme measures, "there has not been anything in which we have advanced, which has not been informed adequately. The foreign ministry has executive responsibility, and thus advances until where that responsibility is defined".
Under Argentine law any discussions involving oil activities must be unfailingly considered by Congress. However those issues related to trade, navigation, and probably fisheries, "can't be planned ex-ante, so we will have to see how far we can advance", said Malcorra.
Finally Malcorra stated that the Malvinas sovereignty claim is "undeniable, non delegable and can't be delayed", but also praised the recent understanding reached with the UK (and Falklands) for the identification of unknown Argentine combatants buried in the Darwin cemetery.