Falklands' Museum and National Trust to receive decommissioned Sea King
Thursday, January 12th 2017 - 06:16 UTC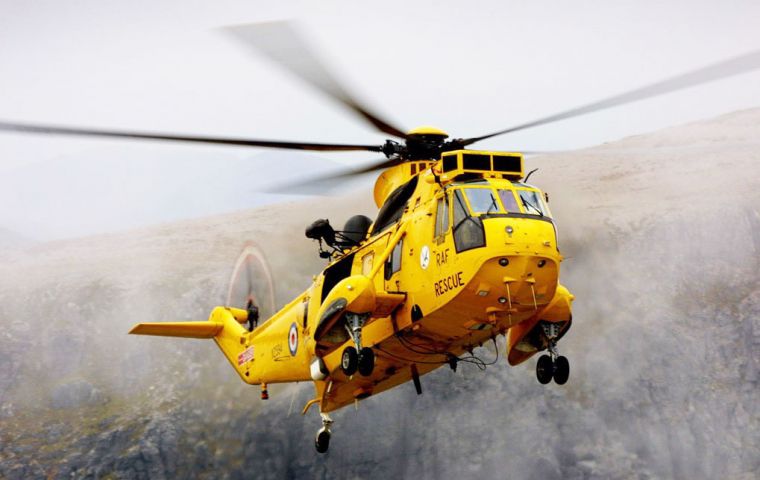 In recognition of the time the Sea King helicopter has spent supporting both the military and the civilian population of the Falkland Islands, the UK Ministry of Defense has donated the decommissioned Sea King Search and Rescue Helicopter to the Falkland Islands Museum & National Trust.
This will be done in a series of events on Saturday 14th January which visitors and members of the public are welcome to attend.
On Saturday, the Sea King will be transported by a Military Chinook from MPC to its temporary home at Stanley Airport. The iconic helicopters will follow a route that will take them past Victory Green at approximately 10.30am, and will land at Stanley Airport at 11am.
At 11:30am, after being unloaded and maneuvered, a ceremony will take place which will show the Sea King being formally presented to the trustees of the Falkland Islands National Museum by the Commander of British Forces South Atlantic Islands, Commodore Darren Bone RN.
Visitors are advised they can watch the ceremony from the airport car park. However, for safety reasons the car park will be cordoned off and vehicles can be parked on the south side of the airport road or surrounding area. Visitors will then have the opportunity to view the Sea King and the Chinook, which will remain at the Airport until 1.30pm on Saturday.
The people of the Falkland Islands welcome this very generous donation, as the Sea King helicopter has a long standing service to the Falklands, and will be an iconic addition to the Falkland Islands Museum and National Trust.