Falklands' patrol HMS Clyde undergoing maintenance work in South Africa
Thursday, January 12th 2017 - 09:16 UTC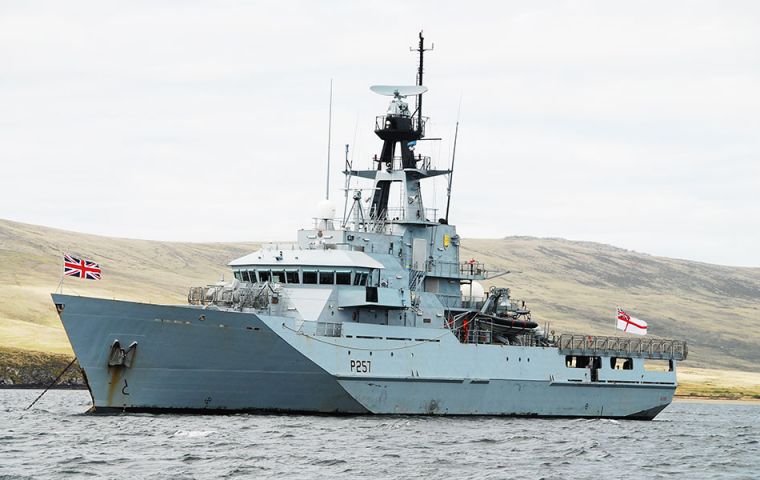 The Falklands' permanent guard ship, HMS Clyde is undergoing refurbishment work at the South African naval dockyard in Simon's Town in her first overhaul in five years. The vessel (P257) arrived in Simon's Town on 22 December, and is scheduled to depart again on 20 February.
The Royal Navy said HMS Clyde has been almost constantly on duty in and around the Falkland Islands since her last overhaul in 2011. She patrols the territorial seas and monitors the airspace around the Falkland Islands whilst conducting routine visits to the small settlements found throughout the Islands. The vessel also visits other British Overseas Territories such as South Georgia.
"Those patrols have taken their toll of the hull and machinery inside, so the ship made the 4 000-mile crossing of the South Atlantic to Simon's Town in South Africa," the Royal Navy said, in a passage that on 17 December took the patrol ship past the most remote of Britain's South Atlantic territories, Tristan da Cunha.
Bad weather, however, did not allow anyone to set foot on the island and although equipped with a flight deck, the vessel does not have a helicopter on board.
Once in Simon's Town Clyde was manoeuvred into dry dock where divers made sure she lined up with large blocks on the dock floor used to support the ship once the water was pumped out.
As there are no dry dock facility in the Falklands, five years' worth of algae and marine growth need to be removed from the hull as this creates drag that reduces the normal top speed of 20 knots.
HMS Clyde is also having maintenance work carried out on her upper deck and various systems to ensure that she is ready for operations, the Royal Navy said. The ship's company are working side-by-side with staff from Armscor, who run the naval dockyard, on the overhaul.
While Clyde is undergoing maintenance, her place is being taken around the Falklands by survey ship HMS Enterprise which, in addition to providing reassurance to the islands' residents, is updating charts used by seafarers.
HMS Clyde was launched in Portsmouth Naval Base on 14 June 2006 by VT Group shipbuilders. After entering service, one of her notable achievements was assisting in the rescue of 347 passengers and crew from a cruise ship on 18 November 2015, after an engine room fire on board.
The vessel has a length of 81 metres and beam of 13 metres. She is powered by two Ruston 12RK 27 engines developing 5 500 hp, giving a range of 5 500 nautical miles and 21 day endurance. Equipment includes two small boats. Armament comprises one 30 mm cannon and seven machineguns.