Falklands and Argentine governments regret and repudiate damages at the Darwin cemetery
Wednesday, January 25th 2017 - 07:35 UTC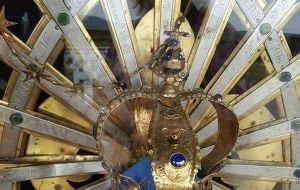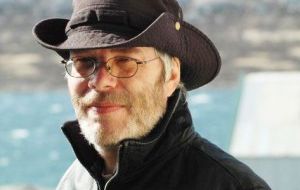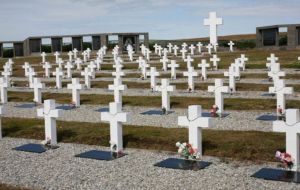 The governments of the Falkland Islands and Argentina have regretted and repudiated damaging actions at the Argentine cemetery in Darwin, while an investigation into the vandalizing has been launched by the Falklands Royal Police, RFIP.
On Tuesday RFIP aannounced a probe following the discovery of damage at the Argentine Cemetery in Darwin, which also triggered a note from the Argentine government to the UK embassy in Buenos Aires.
In a brief report the Falklands government said the damage caused is clearly distressing to the families of the Argentines buried at the cemetery and is regretted by the people of the Falkland Islands.
The facts indicate that a statue of the Virgin of Lujan, Argentina's saint patron which is in a case overlooking the lines of white crosses at the cemetery was stoned defacing the image and her crown destroyed. The damage was reported by the cemetery caretaker who also informed the Families Commission in Argentina.
The Falklands' police is urging anyone who has information concerning the cause of the damage to contact them immediately on 28100, or in confidence on 28112. The report also says that families will be kept informed via the Families Commission.
Falklands elected lawmaker MLA Gavin Short twitted that despite his strong disagreements with Argentines, I totally condemn the desecration of a cemetery
Meantime the Argentine Foreign Ministry said on Tuesday that it had sent a note to the British embassy in Buenos Aires asking the UK government to launch an immediate investigation.
The ministry also said in a statement that the vandalism is "particularly regrettable" given the recent decision by Argentina and Britain to identify the remains of more than 100 Argentine soldiers buried in the cemetery after the 1982 war.
"This significant advance in such a sensitive humanitarian issue is not matched by the intolerance and violence displayed by those who attacked the final resting place of the Argentine combatants fallen in 1982".
The release recalls that the construction of the memorial was possible based on the Joint Declaration from 14 July 1999 signed by Argentina and UK, and ends with the stamp statement that the Argentine government, "once again reaffirms its legitimate rights over the Malvinas, South Georgia and South Sandwich Islands and adjoining maritime spaces, which are integral part of national territory".
According to the Argentine media the Virgin of Lujan statute had been vandalized back in 2012.