UK and US must drop failed military interventions "to remake the world in our image"
Friday, January 27th 2017 - 11:12 UTC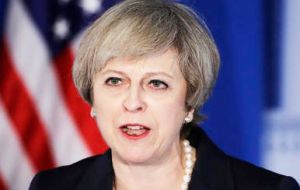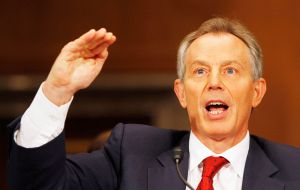 Prime Minister Theresa May has told US Republicans the UK and America cannot return to "failed" military interventions "to remake the world in our own image". Suggesting a UK foreign policy shift, she said those days were over but added that the US and UK should not "stand idly by when the threat is real". However the two countries must "renew the special relationship for this new age" and "lead together, again".
Theresa May's US speech comes ahead of talks with President Donald Trump. She will be the first world leader to meet the new president on Friday, a visit which comes amid controversy over comments by President Trump about water boarding.
Asked about his remarks on her flight to the US, the PM told journalists that the UK condemns torture and "my view on that won't change - whether I am talking to you or talking to the president".
But she said she and Mr. Trump could work together, despite their different styles, joking "sometimes, opposites attract".
In her speech, Mrs. May said: "It is in our interests - those of Britain and America together - to stand strong together to defend our values, our interests and the very ideas in which we believe.
"This cannot mean a return to the failed policies of the past. The days of Britain and America intervening in sovereign countries in an attempt to remake the world in our own image are over.
"But nor can we afford to stand idly by when the threat is real and when it is in our own interests to intervene. We must be strong, smart and hard-headed. And we must demonstrate the resolve necessary to stand up for our interests.
"And whether it is the security of Israel in the Middle East or Estonia in the Baltic states, we must always stand up for our friends and allies in democratic countries that find themselves in tough neighborhoods too," she said, to applause from her audience.
BBC diplomatic correspondent James Robbins said it was a hugely significant speech, arguably the biggest by a UK PM in the US since Tony Blair's 1999 speech in Chicago advocating armed interventionism against dictators - something repudiated by Mrs. May.
It followed comments by UK Foreign Secretary Boris Johnson to a House of Lords committee earlier that Bashar Assad should be allowed to run for election to remain in power in Syria - a complete reversal of UK foreign policy.
The UK prime minister also said she was "delighted" a future US-UK trade deal was being seen as an early priority adding that it "must work for both sides and serve both of our national interests".