Argentina makes it easier to deport foreigners who commit crimes or with records
Tuesday, January 31st 2017 - 12:17 UTC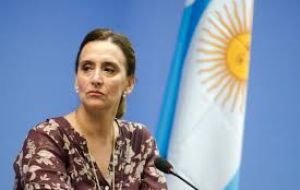 Argentina changed its immigration law to make it easier to deport foreigners who commit crimes and to prohibit individuals with criminal records from entering the country, according to a post in the government's official bulletin on Monday.
The measure cited "recent acts of organized crime" and noted that the percentage of foreigners in the country's corrections system had grown in recent years, reaching 21.35% of the prison population in 2016.
Under the revamped law, foreigners who commit a "malicious" crime will be expelled from the country and prohibited from returning for at least eight years.
The law, implemented by decree and not requiring congressional approval, also restricts those who are serving sentences or have criminal records in other countries from entering Argentina.
More than three-quarters of migrants who arrived in Argentina between 2011 and 2015 came from Paraguay, Bolivia and Peru, according to Argentina's Interior Ministry.
In comments on a local radio station, Argentine Vice President Gabriela Michetti said the measure did not change Argentina's pro-immigration outlook, and sought to avoid any association with recent measures implemented by U.S. President Donald Trump to restrict immigration.
"One has to distinguish between measures that have to do with security, and others that make Argentina an open country, that will always be in favor of diversity," she said, adding that the ruling coalition was "against Trump's recent statements about immigration in the United States and the wall."
Last week, Trump signed an executive order curtailing travel by citizens of seven predominantly Muslim countries. He has also proposed building a wall along the U.S. southern border with Mexico, in part to restrict illegal crossings.
Such criticism of immigrants has rarely featured prominently in Latin American politics. But in neighboring Chile, a wave of recent arrivals from Haiti and Venezuela has turned immigration into a key issue in presidential elections later this year.